Posted: 11/19/2014
Thanksgiving is just around the corner and if you're like most people your mind will be on the turkey. There's a small group of people in South Dakota that think about turkey all year long, turkey farmers. Listen to this week's radio segment here! FARMERS_DAUGHTER-NOV_17TH.mp3
When you think of farming in South Dakota, you probably think of cattle, crops, hogs, and maybe even sheep. Those are all a part of South Dakota agriculture and so are turkeys. We have 39 turkey farms in South Dakota and combined they sell almost five million turkeys each year. Most of these turkeys are raised at Hutterite colonies.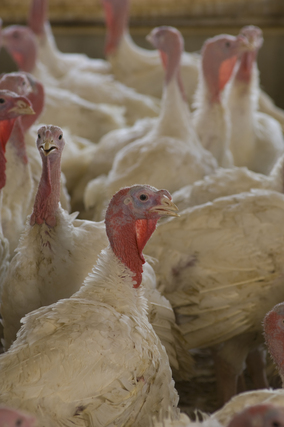 Turkeys are raised indoors to protect from the extreme weather and predators. They arrive at the farm at one day old, and are raised until they are 20 weeks old. Just like all farm animals turkeys are fed a specialized diet and their health is closely monitored. To learn how turkeys are raised from a South Dakota farmer, read Ruben Waldner's profile.
Many of the turkeys raised in South Dakota are also processed in the state at the Dakota Provisions plant in Huron. Dakota Provisions was built by a cooperative of 44 turkey growers who recognized the need for a stable market for the turkeys they raised. Groundbreaking was held in September 2004 and the plant began processing turkeys in December 2005. The plant produces a full line of ready-to-eat turkey and other protein products, primarily for food service customers. The state of the art facility can process up to 20,000 turkeys a day and employs more than 700 people.
Turkey can be a staple in a healthy diet. All poultry in the United States is raised without the use of added hormones so you can feel confident in the product you are eating, no matter the brand. To learn more about the turkey raised in South Dakota and to find new turkey recipes, visit http://www.turkeyanyday.com.
Turkey farmers enable us to go to the fridge and make a turkey sandwich, try a new turkey dish when eating out, and most importantly make sure that we have a delicious roast turkey on the table at Thanksgiving. Most of us think about turkey on just one day. This Thanksgiving, take a moment to thank the farmers that focus on turkey all year long