Featured Farmer - Ruben Waldner
Posted: 11/3/2014
As Thanksgiving nears, turkey is a hot topic. Discussions of how to prepare, how to serve and what to do with leftovers from the traditional holiday feast take center stage in many families.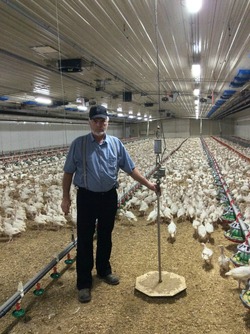 But for Ruben Waldner, turkeys are a top priority all year long. Ruben is responsible for raising about 160,000 turkeys each year on the Riverside Colony, a Hutterite colony of about 125 people, located near Huron.
Turkeys arrive at the farm as day old poults, or chicks, from a nursery in Minnesota. They are cared for in a special barn called a "brooder house" for the first 28 days. They are watched carefully and fed a ration of corn, soybean meal and vitamins. At 28 days, the birds are moved to another barn where they are raised until they are about 20 weeks old. The rations change slightly as the birds grow, but are still the same ingredients.
Waldner combines 30 years of experience with state of the art technology to care for turkeys.
Turkeys are raised in indoor barns to protect them from South Dakota weather, predators and disease. The climate control and ventilation systems in the barns are managed by computers to ensure a consistent temperature, humidity and airflow regardless of the weather outside.
The barns also have scales built into the floors that can provide an estimate of how turkeys are growing. Ruben can check the scales each day to track the birds' health.
"If their weight gain slows down or stops, it is a signal that something might be wrong. I can watch those birds even more closely to make sure they stay healthy," he said.
Another important part of maintaining health flocks is keeping barns clean and maintained. After each group of birds leave the brooder house, it is cleaned and disinfected before the next groups of chicks arrive.
"We clear out all the old bedding, wash the floors with soap and water, then disinfectant. We spread a new layer of clean wood shaving bedding, and are ready for the next group of poults," he said.
The colony started with turkey production in the 1990s as they transitioned away from dairy farming.
"Our dairy barn needed a lot of updates and dairy prices weren't very good at the time. We were looking for a new enterprise, and started small with turkey production," said Ruben.
They started with one barn that was split into two sections: one for the brooder house and the other for growing birds. Over the years, the colony has built four additional barns to reach the current capacity for raising 160,000 turkeys a year. Like all other turkey producers, Riverside Colony is regulated and permitted through the state of South Dakota.
Turkey production is part of a diversified farming operation for the Riverside Colony. They grow corn and soybeans and raise about 30,000 hogs each year. All the corn produced is fed to the farm's pigs or turkeys. Soybeans are taken to a processing plant in Volga where they are processed, and the colony purchases back the soybean meal for feed.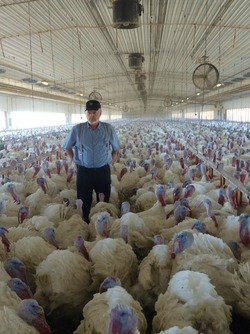 "Feeding corn and soybeans to the animals is a great way to add value to the crops we raise," he said. "Raising pigs, poultry and crops also helps manage the price cycles – if prices are down for one commodity, hopefully they are higher for another and they balance each other out."
All of the turkeys raised at Riverside Colony are processed just eight miles away at Dakota Provisions in Huron, said Ruben.
Dakota Provisions was built by a cooperative of 44 turkey growers who recognized the need for a stable market for the turkeys they raised. Groundbreaking was held in September 2004 and the plant began processing turkeys in December 2005. The plant produces a full line of ready-to-eat turkey and other protein products, primarily for food service customers. The state of the art facility can process up to 20,000 turkeys a day and employs more than 700 people.
Ruben and his wife Ruth have four grown children, three daughters and one son. Having responsibility for the colony's turkey flocks is a good fit for him, according to Ruben.
"I've always loved animals. My goal is to keep the birds as healthy as possible."