Royalwood Dairy Celebrates 10 Years of Breakfast on the Farm
Posted: 6/5/2017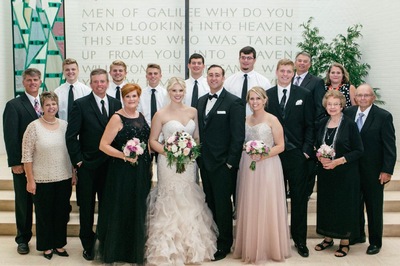 The Ode Family
June Dairy Month has been celebrated by dairy farm families in the U.S for more than 75 years, and one South Dakota family has created their own tradition by hosting an open house event on their farm each year for a decade.  The Ode family is gearing up to host their 10th annual Breakfast on the Farm at Royalwood Dairy on Saturday, June 10. The event has also become a tradition for many in the Brandon community and beyond.  
In 2007, the Ode family hosted their first Breakfast on the Farm open house. They had just completed an expansion of their fourth generation dairy farm that had received community input through the permitting process.
"We were granted approval for expansion but it had caused some tension and confusion among some people in the community. We wanted to give everyone the opportunity to see the farm and how we care for our cows and environment for themselves," said Doug Ode.  "We also wanted to say thanks to the many people who had supported us in the expansion process."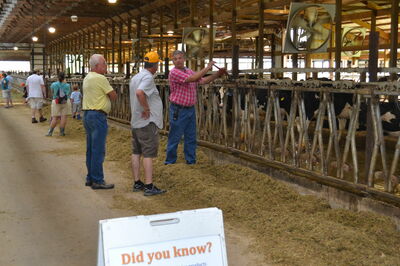 About 600 people attended the first event in June 2007 to enjoy breakfast and take a tour of the dairy farm.
With the success of the first open house, the family decided to make it an annual celebration.  It has grown over the years with the addition of new activities for children and educational opportunities for all ages.  About 1,000 people typically attend each year, attracting both familiar faces and new attendees. 
Royalwood Dairy is owned and operated by the Bob and Marilyn Ode family.  Brothers Doug and Gregg work together to manage the 380 cow dairy farm and raise corn and alfalfa crops. They milk cows three times each day and raise calves on their farm.  Gregg and his wife Jane have two children, Alex and Elisabeth, and welcomed their first grandchild in December. Doug and his wife Amy have four sons, Ryan, Erik, Riley and Sam.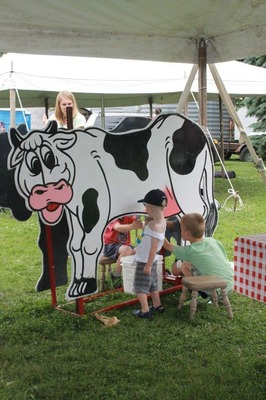 "It is fun to see the young families who've never been to dairy farm, or any type of farm before," said Doug.  "Although we're in rural America, there are so many people who've never been on a farm and don't have a connection with production agriculture.  They have a lot of good questions and coming to the farm can be an eye-opening experience." 
One example of a new experience for many visitors is watching a demonstration of how cows' hooves are trimmed.  A professional hoof trimmer visits Royalwood Dairy every six to eight weeks as part of keeping animals healthy.  Doug said that many people were impressed with how gentle the process is and how calm cows are during trimming and throughout the barns. 
Doug notes that they work to include educational information about dairy farming throughout the farm with lots of signage and volunteers to answer questions. 
The 10th annual event will be held from 9am to 1pm on Saturday, June 10.  Children's entertainer Phil Baker will perform at 10:30 and 11:30am, and kids can create Make and Take crafts with Hood Magazine.  Local farm equipment dealers will bring tractors and other equipment to display, and all visitors will enjoy free pancakes, milk and other dairy treats.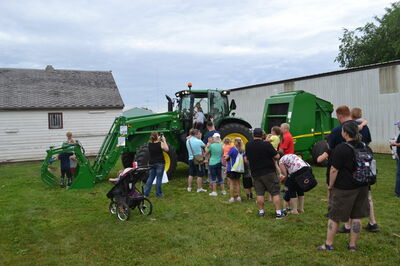 Parking will be at Rivieria Events Center, with shuttles running to the farm.  Limited handicap accessible parking is available at the farm. Click here for all the details.
Volunteers are also an important part of the open house tradition. Each year, the event runs smoothly thanks to help from dairy industry volunteers, Rowena Rustling Raisers II 4-H club, Brandon Lutheran Youth Group, and Brandon Valley FFA Chapter.
Just as the open house has grown and changed over the years, opening the doors to neighbors and community members has given them a new perspective on the day-to-day operations of a dairy farm.
"We see people throughout Sioux Falls all year long and they ask about plans for the next year's open house.  It has had a greater impact than we thought it would," said Doug.  "Since we are so close to Brandon and the Sioux Falls area, it is especially important for us to have a positive role in the community and show the commitment we have to our livestock, the environment and to our neighbors."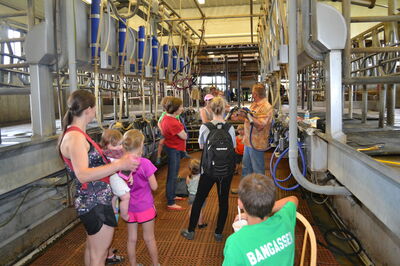 The Odes host a number of tours throughout the year, including groups from senior citizen centers, preschools and daycare centers, classes from South Dakota State University and Augustana, field trips and veteran groups.  They've also hosted a number of international trade groups from Germany, South and Central America, China, France, Mexico and others.  They were recognized with AgVocate of the Year award by the board of directors for Ag United for South Dakota in 2014.