Brandon Dairy Farm Family Recognized as AdVocates of the Year
Posted: 12/10/2014
BRANDON DAIRY FARM FAMILY RECOGNIZED AS AGVOCATES OF THE YEAR


Ode Family Receives Award from Ag United for South Dakota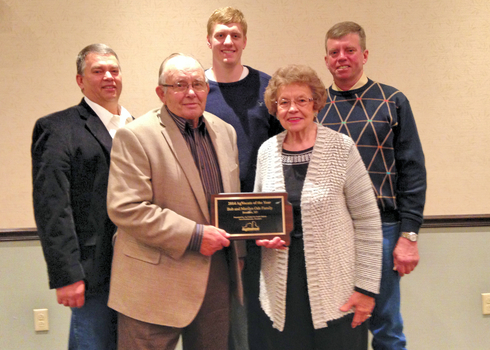 Back: Doug Ode, Alex Ode, Gregg Ode
Front: Bob and Marilyn Ode
SIOUX FALLS, SD – The Ode family of Brandon, South Dakota, was named AgVocate of the Year by the board of directors for Agriculture United for South Dakota at the organization's annual luncheon today in Sioux Falls.
The Ode family owns and operates Royalwood Farms just outside of Brandon. Brothers Doug Ode and Gregg Ode work together to manage the 270 cow dairy farm and raise corn and alfalfa crops. Doug has two sons, Ryan and Erik, who are both students at South Dakota State University. Gregg and his wife, Jane, have two children, Alex is a graduate of South Dakota State University working at the new Bel Brands plant in Brookings and Elisabeth is a student at South Dakota State University. Doug and Gregg's parents are Bob and Marilyn Ode, who continue to be very involved in the family operation.
The Ode Family hosts a dairy farm open house each summer during June Dairy Month, which attracts more than 1,000 people often come to their farm to see where their milk comes from, enjoy a pancake breakfast and bring their children for entertainment by Phil Baker and children's crafts and activities. In addition to the open house, the family often opens their farm for daycare tours throughout the year. Doug and Gregg also visit local schools to share about their farm during National Ag Week.
"Thousands of Sioux Falls area residents know the Ode family for their annual 'Breakfast on the Farm' open house each June, however they are advocates for agriculture year round," said Steve Dick, Executive Director of Ag United. "We appreciate their willingness to open their farm to the public and share their dairy farm's story with consumers."
Rod Snyder, president of Field to Market® The Alliance for Sustainable Agriculture, delivered the keynote address at the luncheon. He shared how The Alliance — a diverse group that includes agribusinesses, farmer organizations, restaurant owners, universities, and conservation groups — is working together to meeting the food needs of a growing world population in a responsible way that protects natural resources.
Ag United marked its 10th Anniversary at the event, celebrating a decade of supporting South Dakota farm and ranch families and rural communities. Visit www.agunited.com, South Dakota Farm Families on Facebook, or @SDFarmFamilies on Twitter for more information on the annual luncheon or Ag United's activities.
Ag United was developed through a collaboration of farm organizations that support livestock production and development and includes the South Dakota Cattlemen's Association, the South Dakota Corn Growers Association, South Dakota Dairy Producers, South Dakota Farm Bureau, South Dakota Pork Producers Council, South Dakota Poultry Industries Association and the South Dakota Soybean Association.