Reflecting on a busy year at Lazy J Dairy
Posted: 12/3/2018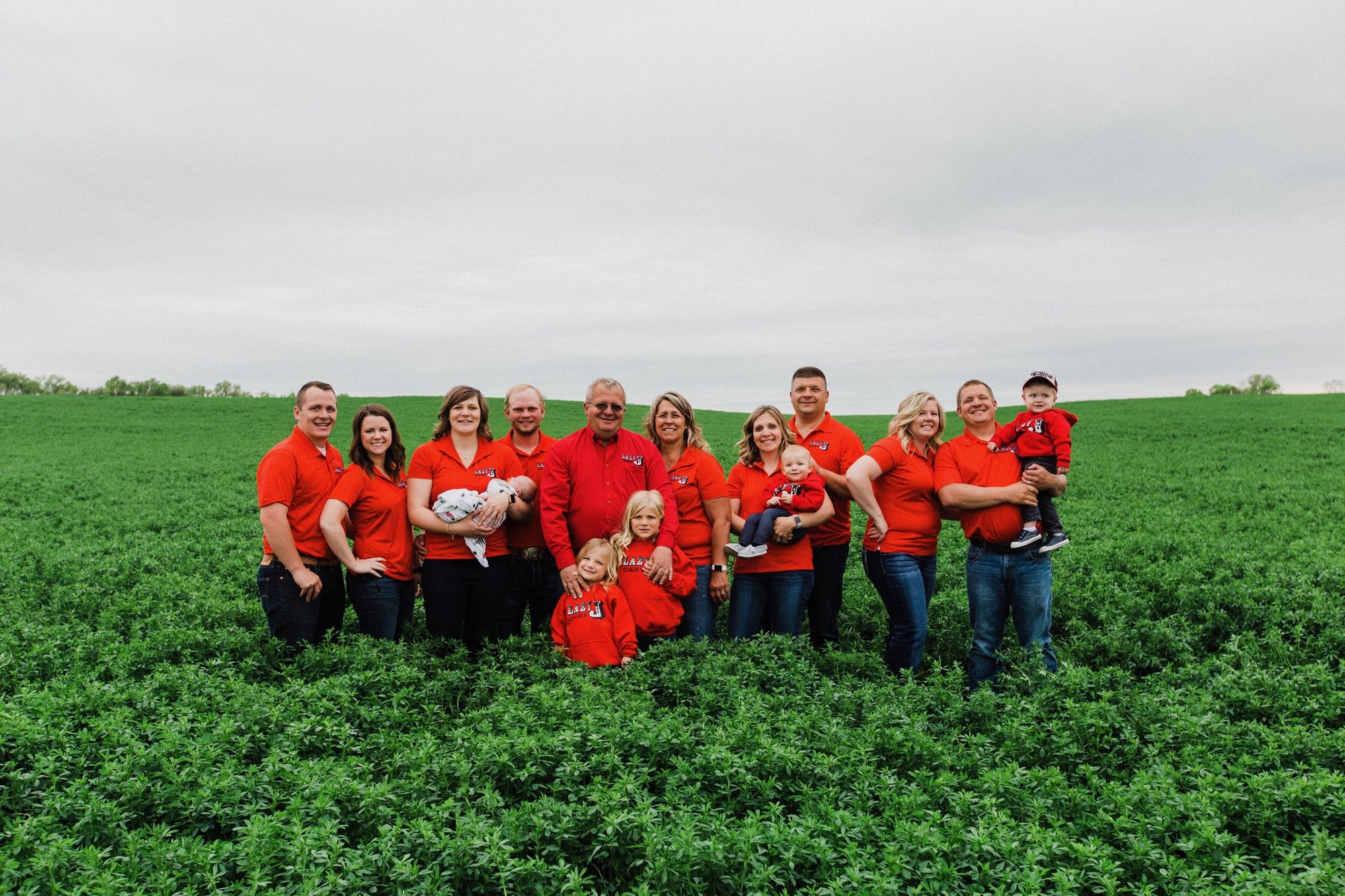 As the calendar year comes to a close, it is a good time for reflection and planning ahead.  For the Jungemann family of Lazy J Dairy near Wolsey, South Dakota, 2018 was a year to remember.  
In late December 2017, they finished construction and began using a new milking parlor and expanded freestall barns for their cows.  This new construction and expansion have allowed them to improve the ways they care for animals, leading to better cow health and milk quality, and making the farm safer and more efficient for family members and employees.
Both Russell and Janet Jungemann were raised on South Dakota dairy farms.  They were married in in 1980 and have been dairy farming together for the past 38 years.  They started Lazy J Dairy with five cows, then quickly grew to about 40 cows. In 1992, they purchased a neighboring farm and began milking in a larger parlor.  Around 2007, they expanded and began milking 480 cows. The recent expansion included a new milking parlor and added more space to their barns so they are able to milk 900 cows.
Their four children are grown and still enjoy spending time on the farm.
"Our kids pretty much grew up in the barn," said Janet.  "The girls helped milk and the boys fed dairy cows and young stock."
Five years ago, their oldest son, Lucas, bought into the family farm.  Lucas and his wife Kari work full-time at Lazy J Dairy. They have a son, Vonn.  
The daughter Libby Flemming and her husband Jamie work full time for the National Guards locally.  They and their children, Brooklyn, Mya, Reagan and Jaiden, love spending time on the farm and help out often.   Their son Adam lives and runs a videography business in Sioux Falls. He enjoys helping out with harvest. 
Emily Stahl is their youngest daughter and also the farm's veterinarian.  She and her husband Cody farm near Bridgewater, and Emily practices with Creekside Veterinary Clinic in Mitchell.   They have a daughter, Ally.
"Russell and I have loved raising our family on the farm and teaching them about hard work and the rewards of owning your own business," said Janet. "We are now enjoying sharing that with our grandchildren."
By expanding their freestall barns, the Jungemanns now have space for their entire herd to be housed indoors, out of the South Dakota weather.  Cows have access to feed and water 24 hours a day, and sand-filled stalls to lie on.
"In the past, some cows had to walk outside in all types of weather to get from their pens to the milking parlor," she said.  "Now they are always able to stay clean and dry, and it is better for our workers to not have to go outside to retrieve cows as well."
The Jungemanns upgraded the design and equipment in their milking parlor, allowing them to expand from 500 cows to 900 cows without requiring additional employees. The new parlor's  parallel design reduces walking distance and time for employees and allows cows to enter and exit the parlor more quickly.
"Cows spend less time waiting and in the milking parlor itself, which means they are able to spend more time in the barn," she said.  "We've seen a big improvement in animal health."
All the cows in the Lazy J herd are also outfitted with identification trackers that allow dairy workers to constantly monitor them for possible health issues.  The trackers connect with scales in the milking parlor to record how much milk a cow gives during each milking session, and they also track activity level and rumination.  When there is a drop in activity or rumination, the tracking system sends an alert so the cow can be checked on.
"It gives us the ability to catch health issues before they become a big problem," said Janet.
For example, cows could be monitored and given an electrolyte boost to ward off health issues that would have required medication later.  Or, if a cow is running a fever during a regular health check, they can review records to see if there are any other signs of illness before making a decision on treatment.
"By combining all the information and technologies, we can have a better picture of what is going on," she said.  "It helps us make a better decision about what medications might be appropriate, or whether the cow is likely to get better on her own."
The Jungemanns have hosted a number of events on their farm, including an open house in July 2018.  More than 400 people attended to see the farm and enjoy burgers and ice cream. They also host a number of school tours each year.
"We enjoy sharing what we do and it is so important to give people who aren't familiar with agriculture the chance to see how we care for our cows and how the milking process works," said Janet.