Compassion and care key to being vet, farmer, and soon-to-be parents
Posted: 3/6/2018
March Featured Farmer: Cody & Emily Stahl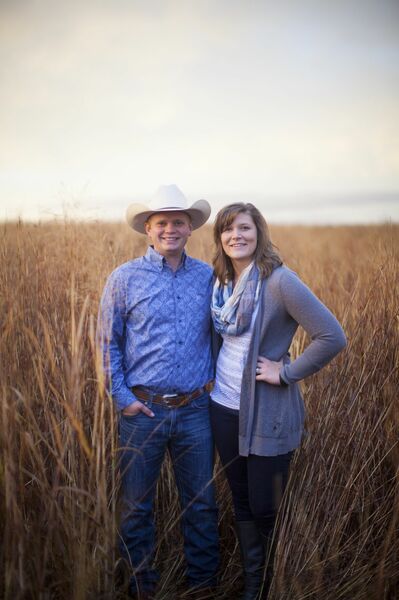 If you overheard a conversation with Dr. Emily Stahl taking about priorities for her patients, you might think she was a medical doctor instead of a veterinarian.  Boosting immune systems, a carefully-planned diet and focus on clean, healthy environments are all important parts of how livestock producers care for their animals.
"As a veterinarian, my primary goal is to keep animals healthy," she said.  "Just like human doctors are focused on preventative medicine and keeping their patients healthy, veterinarians would much rather have animals start healthy and stay healthy rather than treat sicknesses with medicines."
Dr. Stahl has been practicing at Creekside Veterinary Clinic in Mitchell in 2016. Creekside is a mixed animal practice, so she cares for all animals from household pets to horses to beef and dairy cattle.
She grew up on a dairy farm near Huron, South Dakota, then attended South Dakota State University, majoring in dairy production. She attended the Iowa State University School of Veterinary Medicine.
"I grew up with cattle, and then fell in love with veterinary medicine during a high school internship," she said.
Emily met her husband, Cody, while at SDSU, and they live and raise cattle on his family's farm near Mitchell.  Cody also works for Genex.  They are expecting their first child in May.
The Stahls have their own cow herd and also custom raise calves and heifers for other beef producers.  Calving season runs from February through May for the Stahls. They raise and "background" calves and sell them in December or January each year.  
"It never gets old," she says.  "We are excited each time a cow gets pregnant, and excited every time a calf is born and we see it stand up and begin nursing."
They use artificial insemination to breed cows in their herd as another way to continue to improve the health and performance of calves.
"We can improve the genetics of our herd exponentially," she said. "We are able to choose the bull that has the characteristics we want to improve in our herd."
The focus on keeping animals healthy starts with good husbandry skills and vaccines to boost their immune systems, said Dr. Stahl.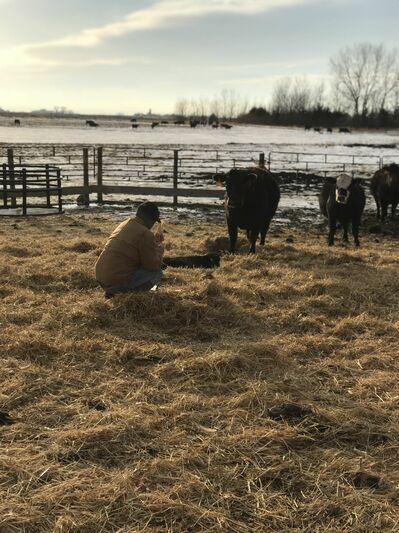 "When a calf is born, we make sure she receives colostrum from the cow and we begin a vaccination program, just like pediatricians recommend a vaccination program for babies," she said.
Vaccination provides an important foundation, but producers also work to provide a healthy environment for animals.  That means different things for each livestock species, but includes clean, dry bedding and protecting animals from the elements. 
Dr. Stahl works with a variety of livestock producers with different size farms or ranches, but sees a compassion for animals in each of the farmers she works with.
"Farmers need to earn a living, but raising animals is much more than the money, it is a way of life," she said. "It never ceases to amaze me how much livestock producers care for their animals.  Almost every time I am working with a farmer and their animals, I notice something that makes me see how much they care.