Posted: 1/26/2015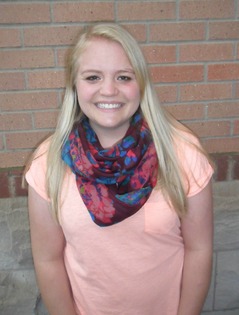 It's been a year since I started my new job as the Outreach Director with Ag United for South Dakota. In the past year I have met lots of great people, learned more about South Dakota Agriculture, and experienced many new things.
In case you're not familiar with Ag United, our goal is to connect consumers with the farmer that grows their food. We do this through a variety of events including bus tours, open houses at farms, restaurant crawls, and classroom visits, just to name a few. At each activity the participants were learning something new about South Dakota Agriculture, and so was I!
I grew up on a farm and my parents raise beef cattle. Much of my knowledge of agriculture was limited to the beef industry. Over the past year I have gotten to see multiple types of dairies, hog barns, and even poultry operations. It was eye opening to learn about all the other sectors of agriculture that contribute to our state. One thing about all of these operations was the same, they each have dedicated individuals managing and working on the farm. No matter the type of farm, these people care about the food that ends up on your table and are committed to producing a safe healthy product for your family and their own.
Seeing a new farm is always fun, but one of the best parts of this job is getting to meet farmers that are passionate about sharing their experiences in agriculture. Each person has a unique perspective and connects with their audience in a different way. Some of our volunteers enjoy visiting classrooms, some prefer to have a conversation with moms, and some like to show what their farm is like through the lens of a camera. Our volunteers are really the backbone of this organization. Without these dedicated individuals, many of our activities wouldn't be possible.
Working as part of a small organization can be both fun and challenging for the same reason, you get to help with just about everything! Each day brings something new, with a new skill to learn.
If you want to keep up with our events and activities, you can follow us at South Dakota Farm Families on Facebook, Pinterest, and Twitter. I'm looking forward to another great year!
Listen to this week's radio segment here! Farmers_Daughter_1.26.15.mp3
A few pictures from our events over the past year: