Explore a fresh perspective on food
Posted: 7/10/2014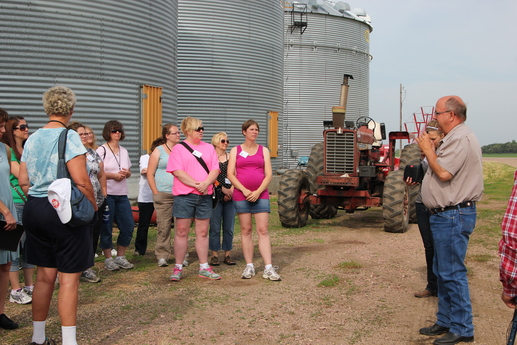 YOU are a consumer of agricultural products every day. Every time you eat you are supporting a farmer. How much do you really think about the food that you are eating? Do you know how beef is raised, or how eggs get from the chicken into your refrigerator? If these are questions you would like answered, join us for a tour of local farms! If you have questions about GMOs, organics, or food production, this is your opportunity to talk with local farmers and food professionals. South Dakota Farm Families will be hosting two bus tours in July.
Participants will be given a free meal, $50 in food gift certificates, and have the opportunity to win additional door prizes. Sign up by visiting agunited.org/moms-day-out for more information and to sign up for the tour of your choice. There is NO COST for these events!
Farms After 5 Tour – July 15th
Spend an evening touring Valley Side Farms and Boadwine Dairy. Valley Side Farm is a working farm, and also makes handmade artisan cheese. Here you will learn more about their 7th generation family farm, and how they process and make their cheese. For the second stop of the evening, participants will be traveling to Boadwine Dairy. This farm has been in the family since 1874. Learn more about how milk gets from the cow to you! This tour will run from approximately 5:30pm to 9:30pm
Mom's Day Out on the Farm – July 23rd
Are you a mom that wants to know more about the food you are feeding your family? Enjoy a fun day out touring local farms! Learn more about dairy, beef, and egg production in South Dakota. Participants will visit Dakota Layers, Ollerich Feedyards, and Prairie Gold Dairy. At each farm attendees will receive a tour and the opportunity talk with the farmers that work the farms daily. This is your opportunity to get up-close and personal with South Dakota agriculture. The tour will run from approximately 8:30am to 4:00pm.
South Dakota Farm Families and CommonGround have partnered to host summer bus tours since 2010. Over the past five years more than 500 people have taken time to join a bus tour and learn more about the importance of agriculture in South Dakota. Each South Dakota farmer grows enough food to feed 155 people for a year. Visit www.agunited.org to learn more about food, farming, and the role agriculture plays in our state.
To learn more about summer farm tours and other events visit www.agunited.org, like South Dakota Farm Families on Facebook, or follow @SDFarmFamilies on twitter.
Ag United / South Dakota Farm Families was developed through a collaboration of farm organizations that support livestock production and development and includes the South Dakota Cattlemen's Association, the South Dakota Corn Growers Association, South Dakota Dairy Producers, South Dakota Farm Bureau, South Dakota Pork Producers Council, South Dakota Poultry Industries Association, and the South Dakota Soybean Association.

CommonGround is a grassroots movement to foster conversation among women – on farms and in cities – about where our food comes from. The United Soybean Board (USB) and National Corn Growers Association (NCGA) developed CommonGround to give farm women the opportunity to engage with consumers using a wide range of activities. USB and NCGA provide support and a platform for the volunteers to tell their stories. The opinions and statements made by the volunteers are not necessarily representative of the policies and opinions of USB or NCGA.
###