Featured Partner: Tara Pirak, Valley Ag Supply
Posted: 4/13/2021
Planning, Technology and Focus are Key to Managing Busy Planting Season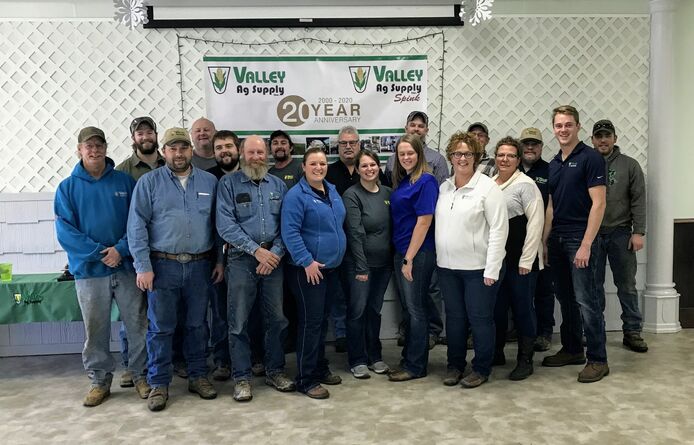 For basketball fans, "March Madness" means the annual NCAA basketball tournament with fast-paced weekends of back-to-back games and the excitement of bracket-busting upsets. 
In agriculture, the madness of March takes on a new meaning, especially for farmers getting ready for spring planting and for agricultural retailers like Tara Pirak, owner of Valley Ag Supply in southeast South Dakota. 
Tara and her husband, Greg, founded Valley Ag Supply in 2000, and grew the business to an agronomy center that provides information, fertilizer, seed, crop protection products, and custom application from their locations in Gayville and Spink.  Valley Ag Supply currently has 19 full time employees and was ranked 89th in CropLife's 2020 ranking of the top 100 largest ag retailers in the nation.  After Greg died suddenly in August 2018 from a fatal blood clot, Tara and the Valley Ag team have continued their focus on customer service and expanded facilities and services.  The company has been recognized for their work in the industry and for sharing the story of modern agriculture at its annual Field to Table event for area students.
Over the winter months, ag retailers like Valley Ag Supply are busy working with farmer customers to develop plans for the coming growing season and to get their equipment and employees ready to manage the rush that comes with spring planting each year.
"Each customer sits down with our agronomist and makes a plan for their fields," said Pirak.  "They look at results of soil sampling and talk about how that field performed in previous seasons including yields, weed pressure and fertility problems, then make a plan for each acre."
Farming today is very precise and very targeted, she said.  Valley Ag agronomists tap into an extensive database to identify the best seed product for each acre and develop planting maps to make the most of the entire field.  For example, more seeds can be planted in high potential areas, while fewer seeds are planted in more marginal areas.  
A successful crop requires a steady supply of nutrients such as nitrogen, phosphorous and potassium in the soil, however each field also has its own pattern of areas with varying nutrient levels. 
"We work with farmers to take grid samples of soil throughout a field, then use those results to create maps and prescription files that are loaded into application equipment to apply precisely what is needed in each area of the field," she said.  ""We want farmers to raise a good crop, make a profit and be responsible stewards of the land and water. Seeds, fertilizer and other inputs are expensive, and there's no incentive for us to spray or spread anything more than is needed for each acre."
While farmers spend winter months repairing and updating equipment for the busy spring season, retailers are doing the same. Employees in the Valley Ag shop have spent several months inspecting, fixing and updating all of the equipment, from sprayers to fertilizer carts, pickups and trucks. 
"We've kept 8 or 9 guys busy going over every piece of equipment to make sure it is ready to go for spring season," she said.
Winter months also provide the opportunity to learn about new programs and products and update necessary training and certifications.
"All of our employees are completing continuing education programs to refresh safety trainings, renew their applicator licenses, update CDL licensing and learn about any new products or updates from manufacturers," she said.  "All of those classes have moved online this year. We haven't had any in-person meetings, but the education has continued."
Unlike basketball games with a scheduled tipoff time, farmers and retailers depend on a variety of factors to determine when to start spring fieldwork and planting, including soil temperature and moisture.  Some seeds, like wheat, will germinate and begin growing in cooler soils, while corn and soybeans are warm season crops that require the soil temperatures to be 50 degrees or higher to germinate.  And, Mother Nature can play havoc with schedules with rain or a cold snap.
Fertilizer is typically applied in the spring just before planting, which means long hours for equipment operators to make sure that all fields are ready to go when each farmer is ready to plant.
"We're grateful to have a wide range of customers – some who want to get started planting as early as they can, and others who like to wait until around Mother's Day," she said.  "Many times, farmers are in their tractors at the edge of the field waiting for our equipment to finish so they can plant right away."
Once the crop is planted, Valley Ag teams work with farmers to make sure crops are protected from weeds, disease, and insects that could impact yield potential or quality of the crop.
"The pace is a little less frantic, but still critical to make sure we are applying the right products at the right time to control weeds and insects," she said.  "It is often a race against Mother Nature and growing weeds." 
Just like successful basketball teams, farmers combine careful planning, a trusted group of advisors and team members, and well-timed execution to raise their crops each season.  However, instead of knowing the result in a few hours, it will take several months of growing, watching and waiting for fall harvest and final yields.