Featured Farmer: 2018 Agvocate of the Year
Posted: 1/11/2019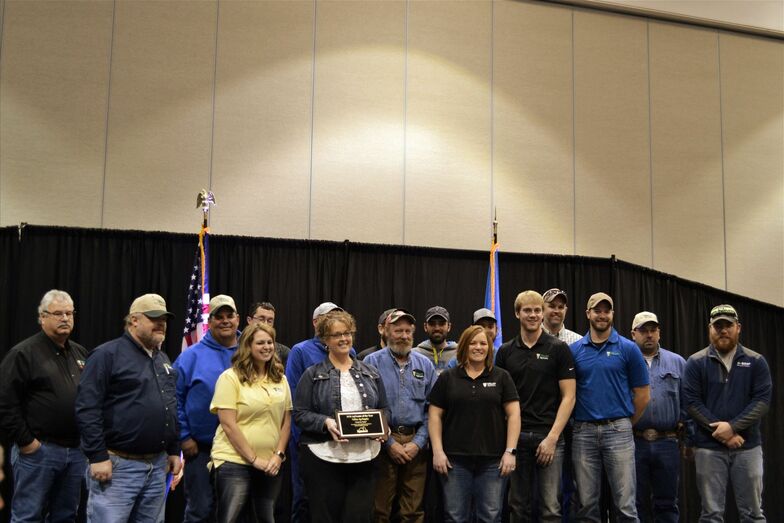 Each year, more than 600 students from 16 elementary and middle schools in southeastern South Dakota have the opportunity to check out farm equipment, see corn and soybean plants and learn about how these crops are used in our everyday lives.  The Field to Table event hosted by Valley Ag Supply in Gayville, South Dakota, each September gives students hands-on experience in how today's farmers raise crops and livestock.
To recognize these efforts, Valley Ag Supply and owners Greg and Tara Pirak were presented with the 2018 AgVocate of the Year award at Ag United's annual luncheon in December.
The Field to Table event was started by a local farmer and the Valley Ag team had helped host the event over the years.  When the farmer was ready to retire in 2006, Greg and Tara decided to continue the program. It continues to grow each year with support from area farmers, Valley Ag Supply vendors and many others.  
"We design the program as an in-field classroom with lots of stations and hands-on opportunities," said Kathy Nelson.  "An important part of working with schools is making sure that activities are consistent with classroom standards established by the state."
Greg was born and raised in Cleveland, Ohio, with no exposure to farming or agriculture.  He attended the University of California-Davis and was intrigued by a class in tractor driving.  This class and his love of nature sparked his passion for agriculture and he majored in agriculture.  A job with Cargill brought him to Yankton, South Dakota.  
Tara grew up in Akron, Iowa. Growing up Tara was involved in agriculture by helping out on her family's dairy farm.  After graduating high school, she perused a bachelor's degree in finance at the University of South Dakota in Vermillion. 
Greg and Tara Pirak met in 1999 while Greg was working on his MBA degree at University of South Dakota.  They not only began datingbut became business partners.  They founded Valley Ag Supply, which has grown to employee 17 people at two locations and provides agronomy, crop protection, fertilizer and custom application services.  They have three sons – Brett, 15; Derrick, 15; and Will, 11.  
Greg died suddenly on August 16, 2018, at age 48 from a fatal blood clot. 
The 2018 Field to Table event was held just a few weeks later, thanks to the help of many Valley Ag Supply employees, product sales representatives, neighbors, and customers.
"There was no discussion of postponing or canceling the event. Telling kids how cool agriculture is was Greg's passion, so the show went on," said Tara Pirak.  "Valley Ag Supply will continue the Field to Table tradition to honor Greg and keep sharing the story of agriculture to the next generation."