Featured Farmer: Ruben Walder: Raising the National Thanksgiving Turkey
Posted: 11/2/2018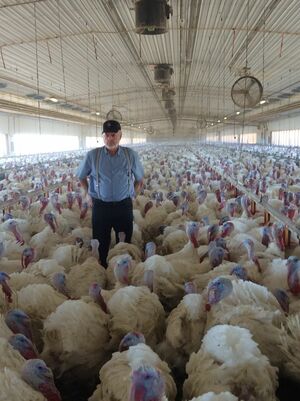 From family gathering and favorite dishes to football games, traditions are an important part of the Thanksgiving holiday. This year, South Dakota will be in the spotlight at one of the country's highest profile holiday traditions.
For more than 70 years, a National Thanksgiving Turkey has been given to the President of the United States by the National Turkey Federation.  This November will mark the first time that the national turkey has been raised in South Dakota. 
Ruben Waldner, farmer from Huron, South Dakota, was asked to raise the official bird this summer.  The turkey will be presented at the White House by Ruben and Jeff Sveen, chairman of the board of Dakota Provisions, who is currently serving as president of the National Turkey Federation. 
Ruben has been raising turkeys for more than 30 years and is responsible for about 160,000 turkeys each year on the Riverside Colony, a Hutterite colony of about 125 people.  All turkeys in Ruben's care are housed in indoor, temperature-controlled and ventilated buildings with carefully-prepared feed, but he does admit that the Washington-bound birds are getting a little special attention.
"We keep them nice and dry and they get new wood shavings for bedding every month and a little special feed," he said.  "It is a great honor for me to raise the national Thanksgiving turkey."
The process of selecting the national bird began with a pen of 50 young tom (male) turkeys that have been raised together.  Ruben has been watching them carefully and will select two turkeys to travel to Washington in late November. 
The selection will be based not only on the turkeys' size and appearance, but also their personality.  The pardoning ceremony and media appearances mean that the chosen turkeys need to be able to stand still and be calm around people and unfamiliar situations. 
Ruben will accompany the turkeys on the drive to Washington, D.C., where they will stay at the five-star Willard Hotel.  While two turkeys make the trip, only one will be recognized at the official ceremony.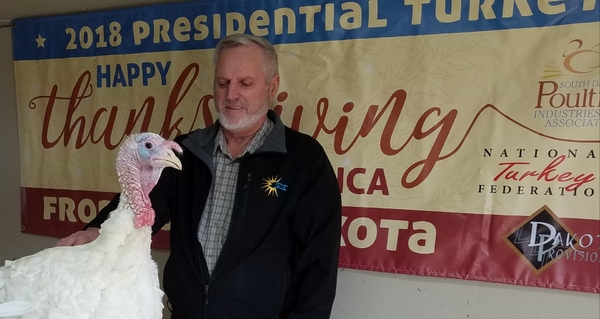 Ruben Waldner and the Presidential Turkey
The tradition of pardoning the national turkey was formalized in the 1980s, and after the White House ceremony, both turkeys will travel to their permanent home at the "Gobbler's Rest" on the campus of Virginia Tech University. 
Dakota Provisions is a state-of-the-art turkey processing plant in Huron that was founded and owned by 40 Hutterite Colonies.  The plant processes about 5 million turkeys each year, which are distributed to food service, restaurants and retail locations around the country.
Watch a video with interviews from Ruben and Jeff here and keep watching South Dakota Farm Families and National Turkey Federation social media to see the national pardoning ceremony and South Dakota turkeys in the spotlight!