Adopted Farmer Program Brings Opportunities for Students
Posted: 2/1/2016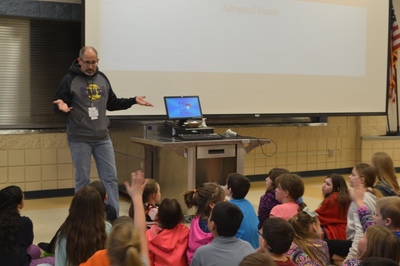 Mike Burke speaks with his students about farming in South Dakota.
Connecting classroom learning with real world examples is a goal for many teachers. For the past five years, Mike Burke has used a partnership with an eastern South Dakota farmer to help his students connect their math, science and social studies lessons with how their food is produced.
Burke has been a fourth grade teacher at Valley View Elementary in Rapid City for twelve years, and was one of the first teachers to participate in Adopt A Farmer program when it was launched by Ag United for South Dakota in 2010. He learned about the opportunity while serving as the school's Community Partnership Coordinator.
"As a teacher, I want my students to have a whole experience. Anytime we can bring the outside world into the classroom, it makes it more interesting and engaging for the students," he said.
Classrooms who adopt a farmer receive a video message once a month with an update on what is happening with crops or animals during that time of year. Students have a view into fall harvest, weaning calves, caring for pigs indoors during the winter, calving, and spring planting … and much more. Watch videos that Jim sent in October, November, December, and January, or follow all of the adopted farmers at Ag United's Happenings and Videos page.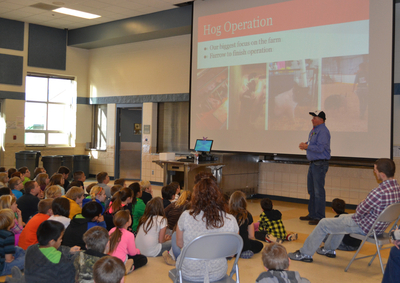 Jim visits with students Valley View Elementary.
The farmer adopted by Valley View students is Jim Petrik from Gayville, in the southeastern corner of the state. Jim is a third-generation farmer who raises pigs, beef cattle, corn, soybeans and alfalfa on the land his family has farmed since 1948. Petrik and his wife Sharon have four children.
The Adopted Farmer program fits well into the student's curriculum because it integrates across multiple subjects, including social studies, science and math, said Burke. For example, based on information from Petrik's videos, the students can calculate the amount of seed or fertilizer needed for a corn crop, or determine how much of each ingredient in a feed ration is needed to feed the farm's pigs.
The program introduces students to the realities and technologies of modern farming. Burke said that only a small percentage of students have a background in agriculture, either living on a ranch or having close relatives who farm or ranch.
"They get to see how today's farmers use math and science every day to make decisions for their crops and animals," said Burke. "It is important for students to know where their food comes from, and good for them to understand the decision making and complexity of farming today."
Petrik also visits the classroom in person once each year, bringing a slide show of photos from the farm and answering questions from the students. His teenage daughter has joined him on some of the visits as well.
"I can tell that the students are paying attention to the videos all year because they always ask really good questions when Jim visits," said Burke. "They are really engaged in what happens with the animals and crops throughout the year."
In addition to the video messages, the students often send letters with questions for Jim. He answers some questions in videos and others during his annual classroom visits.
"I love the energy, enthusiasm and curiosity of the students, and am astonished at the depth of the questions they ask," said Petrik. "They are really interested in everything about the farm and our family. They like to know about the pets we have on the farm. They are also amazed at the differences between the animals and how fast they grow, and how farmers keep track of individual animals to make sure they are healthy."
Petrik is one of nine farmers who are adopted by fourth grade classrooms across the state. The videos are recorded and edited by FFA students from local high schools.