Featured Farmer - Jim Petrik
Posted: 4/15/2014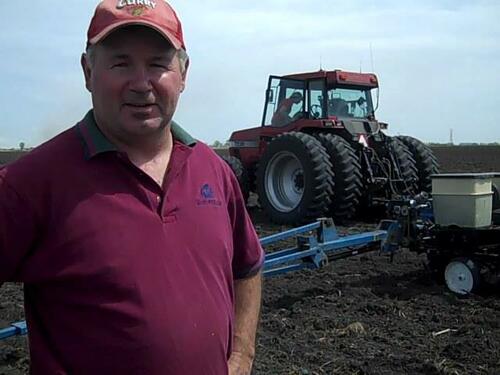 Featured Farmer: Jim Petrik
Jim Petrik and his family are using a combination of new technologies and building relationships to reach out to young people across South Dakota and tell the story about agriculture. Jim is the third generation to raise crops and livestock on the family's farm.
Jim and Sharon Petrik and their four children — Ryan, 22, Allison, 21, Chase, 15, and Olivia, 13 —raise corn, soybeans, and alfalfa on the farm that has been in their family since 1948. They have about 50 beef cows and finish about 5,000 market hogs each year. They also raise some "show pigs" — pigs that 4-H and FFA students can raise for showing at fairs and competitions each year.
For four years, Jim has been an adopted farmer for 4th grade classrooms around the state. Each month, he creates a video that is posted on YouTube and shared with students. The videos highlight what is happening on the farm throughout the year. Students have a view into fall harvest, weaning calves, caring for pigs indoors during the winter, calving, and spring planting … and much more.
Petrik Farms also has a Facebook page to share information about their farm and agriculture in general.
But even the best technology doesn't replace meeting someone face to face. That's why Jim works to visit each of his adopted classrooms once a year to meet students, bring items that students have seen in videos and answer their questions. Watch a news feature about Jim's recent visit to a Rapid City school.
"I love the energy, enthusiasm and curiosity of the students, and am astonished at the depth of the questions they ask," said Petrik. "They are really interested in everything about the farm and our family. They like to know about the pets we have on the farm. They are also amazed at the differences between the animals and how fast they grow, and how farmers keep track of individual animals to make sure they are healthy."
Jim and other farmers also visit classrooms during March to celebrate National Ag Week. In 2014, farmers visited with more than 550 students in 10 different schools in Mitchell, Watertown, Yankton, Milbank, Brandon, Harrisburg and Sioux Falls.
At each visit, a dairy farmer and a pork producer share photos of their families and farms and talk about how they care for the animals and land. Farmers also bring examples of the feed ingredients that go into an animal's daily ration, including corn, soybean meal, cotton seed, soybeans, hay, silage, DDGs and wheat.
"We talk about the animals' nutrition. Just like Olympic athletes carefully plan their diets to make sure they have the right combination of nutrients in their foods, farmers do the same for our animals," said Petrik. "We work with nutritionists to make sure that our pigs and cows are getting the perfect mix of feed and nutrients for their age and stage of growth."
Farmers also help serve the lunch or snack, which includes pizza, milk, a pudding cup and cheese. Each student receives a gift bag with educational activities about agriculture and other fun items. Teachers also receive a package of materials for their classroom.
Photos from the school visits can be found on the South Dakota Farm Families page on Facebook and the AgUnited4SD channel on YouTube.