Adam Mohrhauser named 2019 AgVocate of the Year
Posted: 1/9/2020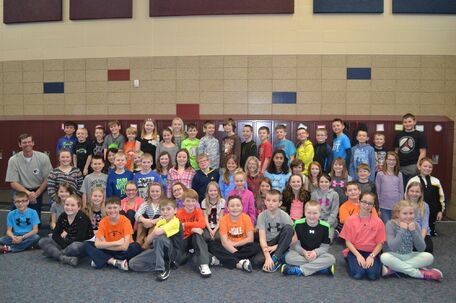 Answering questions from a roomful of fourth graders would strike fear in the heart of many South Dakotans, but for Adam Mohrhauser, it is one of the highlights of his year.   
Adam serves as an adopted farmer for Ag United's program that connects farmers and ranchers with fourth grade classrooms across the state.  He sends a video each month that highlights activities from the farm each month, from harvest or planting to calving season.  Once a year he visits each classroom in person.
"It is fun to hear what they are interested in and every time the questions are different," he said.  "My daughter is the same age, so the students are interested in and ask about many of the same things she does at home."
As recognition for his work as an adopted farmer and other outreach activities, Adam was named the 2019 AgVocate of the Year by the board of directors for Ag United in December.  Adam farms with his father, Gilbert, on farmland between Hartford and Crooks, northwest of Sioux Falls.  They raise corn, soybeans, oats, alfalfa and cover crops and also have about 120 beef cows that calve in January and February each year.
Adam and his wife, Ye, have a daughter Chanel, who is 9 years old.  Adam met Ye when they were both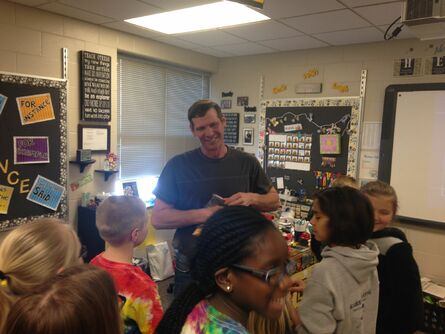 interns at John Morrell.  She is a nurse at Sanford hospital.
Adam has been participating in the Adopt-A-Farmer program since the 2014-15 school year, currently working with classrooms in Humbolt, Mitchell and Harrisburg.  In addition to sharing farm updates, he tries to find ways for students to connect the math and other skills they are learning in the classroom with real-world examples like calculating how much feed a cow eats in a month or year, or how much corn or soybeans are produced in a field.  
He sees value in outreach programs because it is an opportunity to share information with students who may be two, three or more generations removed from production agriculture. 
"Many people drive by fields of corn or soybeans every day, but don't know anything about what the crop looks like or how it can be used," said Adam.  During classroom visits, he brings samples of corns, soybeans, and cattle feed rations so students can touch, smell and feel them.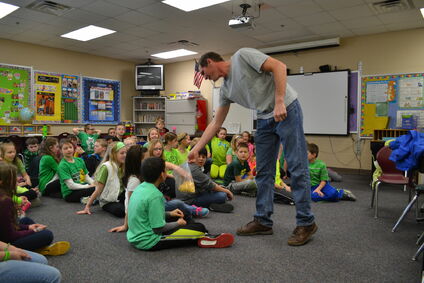 In addition to his volunteer activities with Ag United, Mohrhauser serves on the Lyons Township Board, Sioux Basin Cattlemen board, Minnehaha County Planning and Zoning Commission, St George's Knights of Columbus board and volunteers for Minnehaha County 4-H and Tri Valley FFA Alumni. 
"Adam's work as a community volunteer and leader is a tremendous example of the positive impact that farmers and ranchers have on communities across the state," said Richard Vasgaard, Centerville farmer and president of the Ag United board of directors. "We appreciate his commitment and service."
Learn more about the Mohrhauser farm by reading this profile from 2017.