Adam Mohrhauser, May Featured Farmer
Posted: 5/4/2017
Adam Mohrhauser is the fifth generation to raise crops and animals on land homesteaded by his great-great grandparents, and is one of several generations that grew up in the house where his parents currently live. That tradition and legacy is important to Adam and his family, and is a key reason that the Mohrhausers continue to research and adopt new practices to make farming more efficient and sustainable.
Adam Mohrhauser and his father, Gilbert, raise corn, soybeans, oats, alfalfa and cover crops on farmland between Hartford and Crooks, just northwest of Sioux Falls. They also have about 120 beef cows that calve in January or February each year.
Adam and his five siblings all helped Gilbert and Rosemary Mohrhauser on the farm while growing up, and all but one continue to be involved in agriculture. After Adam graduated from South Dakota State University in 2000, he worked nights at Swift in Worthington, Minnesota, then at John Morrell in Sioux Falls, while still working on the farm during days. In 2011, he began farming full time and bought his father's share of the cow herd.
Adam met his wife, Ye, when they were both interns at John Morrell. They have been married for 11 years and have a six year old daughter, Chanel. Ye is a nurse at Sanford Hospital.
The Mohrhausers have added cover crops to their crop farming over the past few years. Cover crops are planted after a crop like corn, soybeans or oats are harvested to provide a plant "cover" on the soil to prevent erosion, improve soil and other benefits. Some farmers also graze cattle on the cover crops, providing another source of feed.
"We started trying cover crops about four years ago, and it has worked out well to extend the time that cows can graze on the crops each year,' he said. "The cows love it and can move back and forth between the cover crops and corn stalks in the field."
After Adam harvests oats in the summer, he applies manure as a natural fertilizer, then plants mixture of radishes, turnips and rapeseed as a cover crop. The plants keep the soil in place and by fall, provide a great source of feed for cows to graze on along with the harvested corn stalks. The cover crop plants die with cold winter temperatures, then the field is ready for planting corn in the spring.
Watch a video that Adam recorded for adopted classroom to see cover crops in field as well as how fertilizer is applied through strip tillage.
They have added new technologies like autosteer on tractors, variable rate planting systems that change the rate of seeds planted throughout the field, and automatic shutoffs to prevent overplanting at the end of rows. All these technologies allow them to farm more efficiently – using just the amount of inputs needed in each part of the field.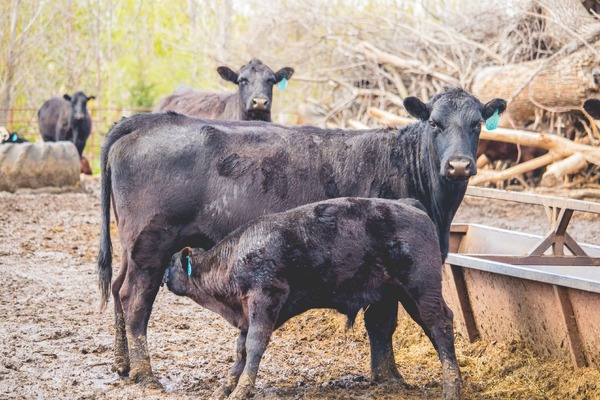 Cows and calves on Adam's Farm
Adam has served as an "adopted farmer" for several fourth grade classrooms through Ag United's Adopt a farmer program. He has worked with classes in Explorer and Endeavor elementary schools in Harrisburg for four years and West Central for two years. He records and sends a video each month showing activities on the farm at that time of year.
He also visits the classrooms each year, typically bringing harvested corn and soybeans, and a mixed feed ration that students can smell and feel.
"I love it when I visit the classrooms and the kids have a ton of questions and we almost run out of time with all the topics they want to talk about," said Adam.
Adam is active in a number of local associations, including serving as treasurer for Sioux Basin Cattlemen's Association, supervisor for Lyon Township, member of Tri Valley FFA alumni association, and member of St. George Knights of Columbus.
Adam enjoys the opportunity provided by farming to be his own boss and work with family.
He also notes the important role farmers and livestock producers play in local communities, especially in creating job opportunities.
"Farmers need to work with a number of professionals such as agronomists, bankers, veterinarians, nutritionists and more," said Adam. "We also do business with many service providers in our communities to keep equipment and barns running."