Recognizing the Women in Agriculture
Posted: 10/8/2015
By: Rebecca Christman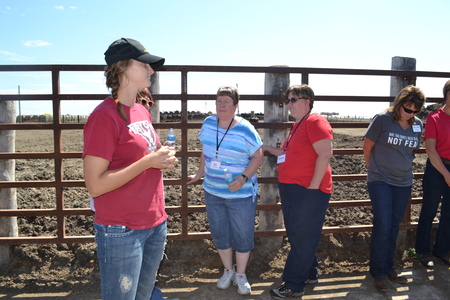 Trish Ollerich, a young cattle feeder from Elkton, gives a tour to a group of women on a "Mom's Day Out Tour" in July 2014. Women are a growing part of SD agriculture and make up 26% of the farmers in the state!
Last week I had the opportunity to participate in the Women in Ag conference. This was a great time to meet new people and catch up with old friends. These ladies are all part of the hard working community of women in agriculture in South Dakota.
The women at the South Dakota Women In Ag conference work to support agriculture in a variety of ways. From ag banking to insurance, and communications to running a farm, these women do it all. 26% of South Dakota farmers are women, but this isn't the only agricultural job where their numbers are growing. Women are part of all industries in agriculture, and they do their jobs well.
The image of a farmer is changing. Women play a more visible role on South Dakota farms than they have in the past. Many of today's farm women have a 9 to 5 job, come home, make supper, and then hop in the tractor to finish up with chores. These are women who can truly do it all, and we appreciate them! In my life, that do-it-all woman is my mom. Throughout her life she's been able to keep farm records, then make a delicious meal for dinner, and in the evening look over EPD's to select a sire to breed to our cows.
This year's Women In Agriculture theme was "I am. I can. I will." To all the women that are sorting calves, harvesting soybeans or corn, or making lunch to take to the field, here's my take on this years theme.
YOU ARE an important part of South Dakota agriculture! Without you we'd have 26% less cattle in the state, and less steak and hamburgers to throw on the grill. Our glass of milk in the morning would only be ¾ full. All of those great corn and soy products that feed our animals and are part of our household would be less available.
YOU CAN do anything a man can do, but you already know that. I've seen farm women fix equipment, rope a wild calf, and throw hay bales up into the hayloft. Farm women are just as strong willed as any man, and will find a way to get the job done.
YOU WILL continue to grow your role in the ag industry. Women are not only working on the farm, they are crop insurance adjusters, large animal veterinarians, elevator managers, AI technicians, and seed salesmen. Based on my experience at SDSU, more women are planning on making agriculture a career than ever before.
It's hard to dispute that women are an important part of agriculture. To all the women out there helping keep food our table –thank you! If need picture proof of all these hardworking women, be sure to check out my new favorite website FarmHer. These are beautiful pictures of women in ag doing what they do best.
*Source: 26% SD farmers are women http://www.usda.gov/wps/portal/usda/usdahome?contentid=women-in-ag.html
Listen to this week's Farmer's Daughter radio segment here! FARMERS_DAUGHTER-OCT_5TH.mp3