Posted: 11/28/2016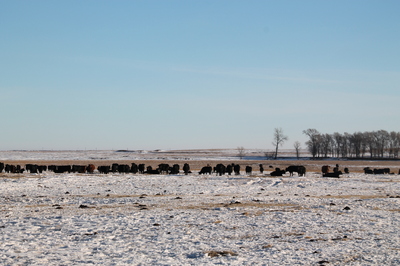 More cold weather and snow is looming right around the corner. In our state most people have survived the first snowfall of the year. Although we've had one of the warmest falls I can remember, there's no denying that winter is coming. Some might say it's already here in full force!
For farmers, the extended fall has helped them better prepare for winter. Fences are fixed, harvest is complete, pens are cleaned, and soil testing is done. During the first blizzard of the winter, I was fortunate curled up inside with a blanket and a good book. Growing up on the farm I remember many snowfalls scooping out feed bunks, working to start up a tractor that is a little slower in the cold weather, and spending time trying to see past the blinding snow to bring cattle their feed.
For many people a blizzard might mean a snow day, drinking hot chocolate, and working on projects indoors. For a farmer, a blizzard means extra hours of work outside in the cold, keeping a thermos of hot coffee in the tractor, and making sure the animals have warm bedding, thawed waterers, and plenty of food.
Whether we like it or not winter is coming! This winter, be sure to say thank you to the farmers you know. Their work outside in the cold allows us to stay warm inside all winter.