Posted: 9/1/2015
By: Rebecca Christman
It's hard to believe that it's already time for the South Dakota State Fair! I haven't missed the SD State Fair in over 15 years, and I'm glad to say that I'll be back for at least part of it this year. My role has changed from 4-Her to spectator over the years, but I still enjoy every minute.
So why does South Dakota have a state fair anyway? Any town could host a series of concerts or a carnival. After a little research, I discovered that the orginal purpose of the fair was increase interest in agriculture, manufacturing and domestic arts in South Dakota. Take a step off the midway and you'll find that the state fair has stayed true to it's purpose even 130 years later.
Although it's not listed as part of the "original purpose" for the fair, being able to compete with people from across the state was one of my purposes for going to state fair. Competing at a higher level gave me the opportunity to see how I measured up with other exhibitors across the state. This gave me the opportunity to see how I could do better with my projects, and gave me a goal to work for the next year.
For myself, and many other exhibitors, the state fair is what you look forward to all year. All putting in so much hard work into your animals and other projects it can be exhilarating to win, and devasting to lose. Either way, there's something learned from each project.
After you're done with the midway and concerts, take a walk through the 4H barns or make a stop in the arts building. These are the places where you'll find the purpose of the state fair shining through. See you this week at the fair!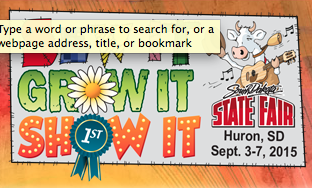 This year's SD State Fair theme.
www.sdstatefair.com
Listen to this week's radio segment here! FARMERS_DAUGHTER-AUG31.mp3
Sources: http://www.sdstatefair.com/assets/docs/uploads/history.pdf
www.sdstatefair.com