Posted: 7/27/2015
By: Rebecca Christman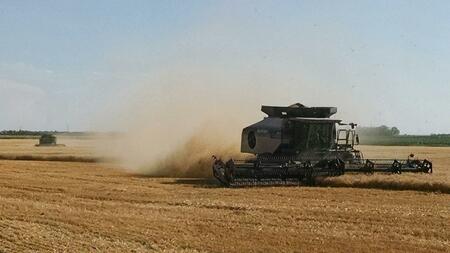 As I was driving across the state last weekend, I saw that it's harvest time for one of the most beautiful crops our state produces – wheat! During much of the summer, wheat fields are green, and look like fields full of tall grass. In late summer wheat fields turn that iconic gold color, and that means it's time for harvest!
When harvesting wheat, a combine cuts the heads off of the wheat and separates the grain from the stalk. The grain is stored in the combine for a short time, and then moved to a grain cart. The grain cart will then transport the wheat to storage on the farm, or load it into a semi. If the wheat won't be stored on the farm, it is taken to the elevator to be sold.
24% of South Dakota farms plant wheat, and our state ranks number six in wheat production. Each year farmers harvest over 2 million acres of wheat. Some of this wheat is used to feed animals, however much of it will be processed into wheat products that we enjoy!1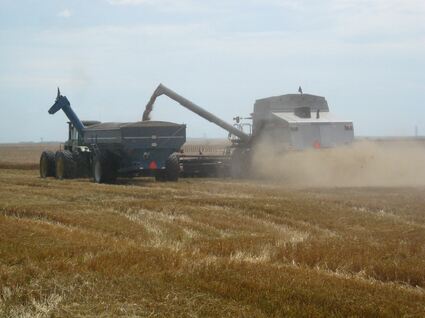 Many of my favorite foods including breads, pastas, and cereals are made from wheat. Wheat is an important part of a healthy diet, as it includes fiber, B vitamins, and minerals. To get the best nutritional value be sure to make half your grains whole. Eating whole grains, including wheat, may reduce the risk of heart disease and can help with weight management. 2
Right now, wheat products are getting their start in many fields around South Dakota. When you have a piece of toast or a bowl of cereal with breakfast tomorrow morning, be sure to thank a farmer!
Sources
1) http://sdda.sd.gov/office-of-the-secretary/publications/pdf/2014.south.dakota.agricultural.bulletin.pdf
2) http://www.choosemyplate.gov/food-groups/grains-why.html
**Photos courtesy of Valerie Strand.
Listen to this week's Farmer's Daughter radio segment here! FARMERS_DAUGHTER-JULY_27TH.mp3