Top 4 Reasons Why Fall on the Farm is the Best
Posted: 10/20/2015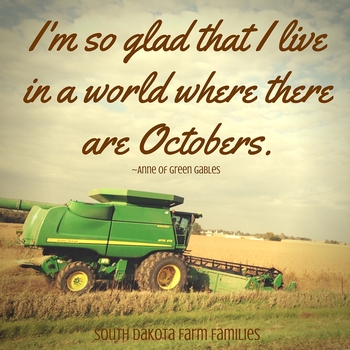 It's not too often that you can say you don't see even a hint of frost until mid-October, but that's exactly what we've been experiencing. It has been a wonderful fall, and I know that the farmers are thankful. The nice weather has given farmers extra time to get things done around the farm, and has made for a beautiful harvest season.
Fall is a great time to be on the farm! Here are my top 4 reasons to love fall on the farm.
1. Harvest
Around here, farmers are almost done harvesting soybeans and are getting a good start on the corn crop. It really has been the perfect harvest season. Warm temperatures and little rain mean that farmers are able to get in the field and stay there until the crop is harvested. Other years we've been fighting rain and even snow! Harvest is a very rewarding time on the farm. Farmers spend long hours in the field, getting up early in the morning and staying out until late at night. After months of work, it's a relief to see corn or soybeans coming out of the combine. The farmer's job is almost done, and now these crops will be fed to animals, exported to other countries, and end up on your dinner table.
2. Cool weather
After working in the heat for the past few months, cool weather is a welcome relief on the farm. Cattle love colder weather, and the farmers enjoy it too! Cool temperatures make working outside much more bearable, and even enjoyable. After sweating every time you go out to do chores, nothing feels better than needing to put on a sweatshirt or zip up a jacket when you go outside in the morning.
3. Scenery
Fall scenery is beautiful everywhere, but it's hard to beat fall on the farm. The landscape changes colors, and crops are ready to harvest. The corn and soybeans are a beautiful golden brown, and if you drive down the road you'll probably find a combine harvesting the crop.
4. Hunting Season
In South Dakota, hunting season is something most people look forward to all year. Even if you're not an avid hunter, you know that family and friends will be coming to town. Hunting is a great time to get outside and spend time with people you may not have seen in a while. At our farm, we know that we'll have at least a couple groups of relatives come to visit some time during the fall. For many farms, hosting out of state hunters means a little extra income as well.
There you have it! My top reasons why fall on the farm is the absolute best. What else would you add?
South Dakota Farm Families is also hosting a fall photo contest! By entering you can win 4 tickets to the SDSU vs. USD football game on November 14 at the Dakota Dome. Learn more about the contest entry rules.