Posted: 10/3/2016
By: Rebecca Christman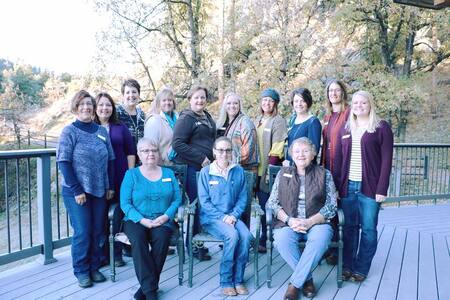 A few of the wonderful women that put on the retreat!
This week I have the amazing opportunity to go to a retreat that is specifically for women involved in agriculture! Women from all over the state will be traveling to Keystone for South Dakota Women in Ag to learn, relax, and have fun.
When most people think of a farmer they think of a man. However, there are nearly a million farmers in the United States that are women. Women have always had an important role on the farm, and that role is growing. Many women plant fields, give vaccinations, and herd cattle. In fact on 14 percent of farms, the primary owner and operator is a woman.
On our own farm, my mom chases cattle, pushes calves up the chute, keeps excellent records, and pores over EPD records searching for the best bulls. Although she's only in high school my sister, Sawyer, spends her summers fixing fence, moving bales, and caring for her 4-H animals. She's even started her own small herd of cattle. As for myself, my favorite job on the farm was rounding up the cows for AIing (artificial insemination) in the evenings during the summer. I loved spending time in the fresh air, driving across grassy pastures, and looking at all the cattle. When girls outnumber the boys 3 to 1 in our house, you can be sure that women are doing some of the work on the farm!
Women's roles in agriculture aren't just expanding on the farm. Women can be found in almost any industry, including seed salesmen, elevator operators, ag insurers, veterinarians and more! I went to college with many of the fantastic women that fill these roles. Sometimes agriculture can feel like a "boys club", but I'm happy to say it feels less like that all time.
Women from many backgrounds will be attending the conference this weekend, but they all have one thing in common. They are part of an important and growing demographic of agriculture.
Listen to this week's Farmer's Daughter radio segment! 10.3.16_Farmers_Daughter.mp3