Posted: 8/13/2015
By: Brianna Buseman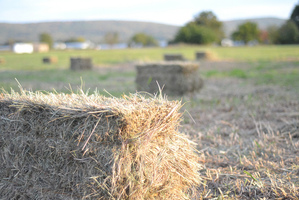 Photo By: Mike Norton
https://www.flickr.com/photos/mtnorton
This past week I spent an evening helping my dad and brother put up square bales. This is a job that I often dread. Many people see square bales as a hassle and have moved to only producing round bales. Because they are handy to have around, my family still does several hundred square bales every summer. If you need to bed a pen during calving or feed a couple of cows you have brought up, square bales make the task simple. They are also nice to bring on the road if you are going to a show for additional bedding and feed.
Although throwing bales isn't a job I typically look forward to, I've always felt great satisfaction after spending an evening working together with my family. Seeing the work that I have accomplished and knowing that my sore muscles are well deserved, gives me a great sense of fulfillment.
From the outside, farming looks like a fantastic occupation. Being outside all day and spending time with animals, does it get any better than that? What many people don't realize is the amount of work that is put in to keep a farm operation running. Many of the tasks that need to be completed on the farm are hard work and aren't always pleasant, however, they must be done. Despite the long hours, lack of weekend and holiday vacations, and some unpleasant work; farmers are dedicated to provide for our growing world. I have never met a farmer or rancher who isn't passionate about what they are doing. They are willing to do the jobs that make some people cringe, and often do it with a smile on their face.
So today I would like to extend a big 'thank you,' to all of the farmers and farm families out there. The work that you do is not going unnoticed, it is very much appreciated!