The Farmer's Daughter 9.8.14 Family Farms
Posted: 9/8/2014
Two weeks ago, our family was honored to have my grandma's farm be recognized as a Century Farm at the South Dakota State Fair. The Winberg farm was established in Miner County in 1906, and has been handed down to multiple generations of family members.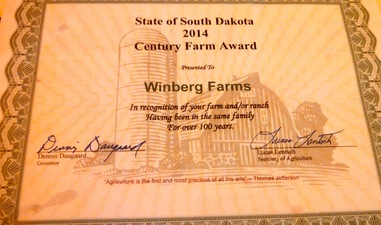 The Winberg farm is just one of 2,700 farms in our state that have stayed in the same family for more than 100 years. It was a memorable experience to share the day with other families celebrating their farm legacies.
Just like many other things in our state, family farms have changed over the years.
In 1930, one farmer produced enough food to feed 10 people, today our farmers produce enough food to 155 people in the US and abroad. That productivity is made possible by the adoption of technologies that my great-grandparents wouldn't have even dreamed possible. GPS systems, modern livestock barns, improved seed varieties, and many other advancements are allowing today's livestock producers and crop growers to produce more food while taking better care of their land animals than ever before.
One thing about farming hasn't changed though, it's still a family affair. 98 percent of South Dakota's farms are family owned. Just like 100 years ago, these families still care about preserving the land for future generations.
Next time you drive by a farm, think about the rich history of farming in South Dakota over the past 100 years and the families that are working together to produce our food.
Listen to this week's radio segment here: Farmers_Daugther_9.8.14_Family_Farms.mp3