The #1 lesson I learned from working at Ag United
Posted: 11/9/2018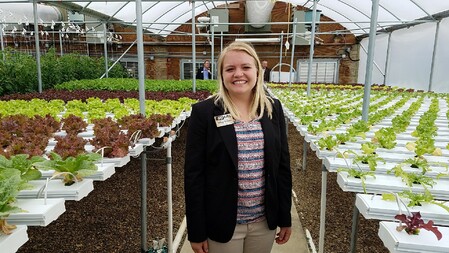 I have had the opportunity to work at Ag United for SD for almost five years now. As Outreach Director you'll often find me behind the scenes of open house events, bus tours, and restaurant crawls, and behind the computer screen writing press releases, blog posts, and radio spots. All of those things are fun, but the best part of this role has been working with farmers and agriculture professionals across South Dakota.
I grew up on a farm and my family raised beef cattle, so I have been familiar with this type of farming for a long time. However, over the past five years I have learned so much about how dairy, pork, poultry, corn, and soybeans are raised. This experience has given me an even deeper appreciation for the variety of agriculture in our state. Even more important though, is that each farmer I worked with was truly trying to do their best to care for their land and livestock. 
This experience has led me to believe that there is no one "right" way to farm. There's room for all in South Dakota agriculture. No matter the product, farmers are working to ensure that the food they produce is safe for their own family and the hundreds of other families that will eventually eat the food they raise. So the overarching takeaway after five years is this: if you have questions about the food you eat – ask a farmer! Most farmers are ready and willing to share what they do on their farm.
This week, I'll be moving on to a new job. The lessons learned and experiences I gained promoting agriculture in South Dakota will stay with me.  Thank you to the hundreds of volunteers that shared their time and knowledge, the Ag United board for their input on the direction of our activities, my boss, Steve Dick, for his guidance, and my family (Tim, Sandy, Sawyer, and my husband Shad) for their unwavering support. Thanks for the memories!
Listen to Rebecca's radio segment here: Rebecca Christman Farmer's Daughter.mp3