Posted: 11/23/2015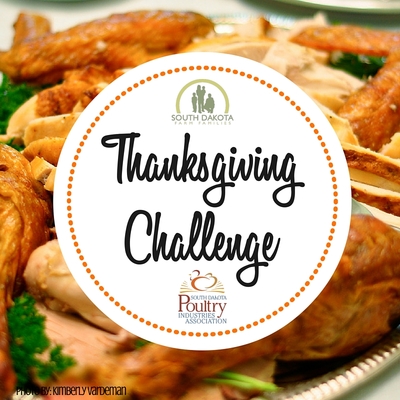 It's hard to believe that Thanksgiving is just a few days away! It's definitely one of my favorite holidays. I love getting to spend time with friends and family, and then of course there's the food!
Turkey with all the trimmings is a meal that I look forward to all year long, and there has never been a shortage of food on the table in our house. However, not all families in South Dakota are as fortunate as we are.
This year, Feeding South Dakota has committed to providing 1,500 turkeys to families that would otherwise go without. They are still 300 turkeys short. 15 dollars will provide a turkey and all the trimmings to a family in need. South Dakota Farm Families has committed to providing 10 Thanksgiving meals and would like to challenge other businesses to make a matching donation.
If you're an individual, I'd challenge you to donate money for one meal. This Thanksgiving, just $15 will help another family put a turkey on the table. I've made my donation, now it's your turn!
Listen to this week's radio segment here! SD_Farm_Families_-_Farmers_Daughter_Nov_23rd.mp3