Posted: 11/24/2014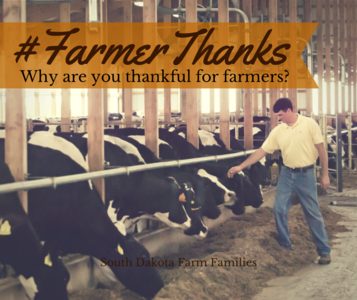 By: Rebecca Christman
Christmas decorations and ads for Christmas sales are everywhere and it seems like Thanksgiving is the forgotten holiday. Here at South Dakota Farm Families we haven't forgotten about it, and we hope you haven't either! That's why this week we are dedicating our social media profiles to sending out our thanks to farmers.
There are 46,000 farmers in the state on more than 31,000 farms. These farmers are dedicated to working long hours on holidays and weekends so that we can eat three meals a day. Even on Thanksgiving Day, farmers are outside taking care of their animals before they can join their own families for holiday celebrations.
Ninety-eight percent of farms in South Dakota are family owned. These families care about the food they produce, and want to make sure they are growing a safe healthy product for your family, and their own.
This week we want to say thank you to farmers everywhere. Post why you're thankful for farmers using the hashtag #farmerthanks on Facebook or Twitter. Each status will be entered into a drawing for a holiday ham or turkey! Visit our South Dakota Farm Families Facebook page or follow us on Twitter at @SDFarmFamilies to share your post or view others.