Sydney Sleep: My Summer with Ag United
Posted: 8/15/2017
By Sydney Sleep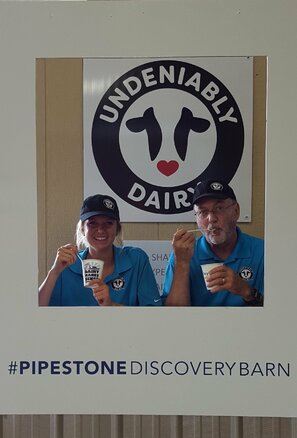 I can't believe my summer internship with Ag United for South Dakota is already over. This summer was truly one for the books. I am so thankful for the people I met, all I learned about the agriculture industry, and the unique experiences I was given. 
One of my biggest takeaways from this internship is the number of people searching for answers about where their food comes from. However, there is so much false information out there that it can be hard to distinguish the truth from the lies. According to the Center for Food Integrity, 80 percent of consumers want more information about how their food is produced. Therefore, it is vitally important to be proactive in providing consumers with the facts and opportunities to see firsthand where their food comes from.
It was really awesome to be a part of providing people with opportunities to step foot on farms, have their questions answered, and learn the truth about the food they eat! I was really impressed by the number of farmers who were willing to invite the public onto their farms to provide an inside look at the care that goes into raising their crops and livestock. 
I stayed busy with lots of events this summer and truly enjoyed and learned a lot from every single one! June was Dairy Month and full of dairy events, kicking off with Dairy Fest, followed by Breakfast on the Farm, an open house at MoDak Dairy, the Know Your Milk Tour, and a Dairy and Beef Farm Tour. I also helped at Cheeseburger Day and the Corn Cob Open Golf Tournament put on by SD Corn. At each of these events, it was really neat to witness farmers and consumers engaging and consumers making connections about the food they eat.
July didn't slow down at all. Beginning with Family Fest, I then had the Farms After Five Tour, several tours for the Boys and Girls Club, and open houses at Pechous Dairy and Sunrise West Dairy. It was so rewarding to watch all of our hard work and planning come together at each of these events. I also enjoyed visiting so many farms and learning about the different practices each farmer uses.
My internship wrapped up in August by working the Dairy Bar at the Sioux Empire Fair. I got to serve milk and ice cream for 10 days! I always love spending time at the fair and had a great time promoting dairy.
In addition to planning and promoting these events, I also monitored the Facebook, Instagram, and Twitter pages, wrote for the Farmer's Daughter blog and taped Farmer's Daughter radio segments. These responsibilities provided me with the chance to put to use many of the communication and marketing classes I have taken at SDSU.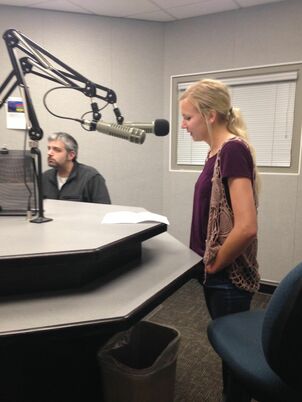 I want to say thank you to everyone I was able to work with this summer! I truly enjoyed getting to know each one of you.
As I head back to SDSU for my last year of school, I am excited to take what I have learned and continue to grow so I am equipped to do my part to advance the agriculture industry.
Also, if you're going to the South Dakota State Fair, be sure to stop by the Dairy Bar and say hi! 
Be sure to tune into KELO 1320 AM or 107.9 FM on Tuesdays each week during the 10:00 "It's your Agribusiness" show to hear The Farmer's Daughter. 
Did you miss hearing Sydney on the radio? Listen to her segment here:
7.21.17 FD intern summer recap.mp3