Posted: 5/26/2015
As introduced on the Farmer's Daughter radio spot, my name is Brianna Buseman, and not only am I a farmer's daughter, but I am also the Ag United Summer Intern.
I grew up on a farm in South East South Dakota where my family raises Angus cattle. Growing up, I was very involved in our operation. Whether that be vaccinating calves or assisting in haying, I loved every part of it! I was a part of 4-H when I was younger, both showing and judging livestock. This organization gave me a deeper appreciation for the Ag industry. Because of this, I have chosen to pursue a degree in Agricultural Business at South Dakota State University where I will be a sophomore this fall.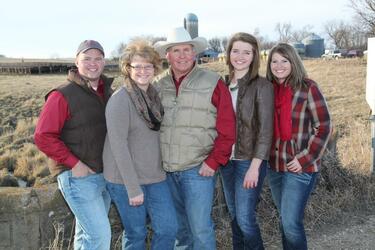 Being raised on a farm has given me opportunities to learn a lot of life lessons. I have gained an understanding that even if you put in your best effort, sometimes things don't always pan out the way you hoped. I've learned the importance of patience and a positive attitude. Most importantly, I've grown to appreciate the value of a strong work ethic. These attributes can be applied in all I do, whether that be in my classes at school or in a future career, patience, positivity and hard work are valuable characteristics.
This summer I look forward to working with producers and consumers all across the state. In this position I will strive to work hard to make every event a success. I am so thankful to have been raised with an appreciation of agriculture and am excited to share that with others this summer!