Spink Colony Showcases Newly Opened Käsemeister Creamery
Posted: 5/16/2018
SPINK COLONY SHOWCASES NEWLY OPENED KASEMEISTER CREAMERY
Spink Colony near Frankfort invites public to open house on June 1
FRANKFORT, SD: Spink Colony is celebrating the opening of Käsemeister Creamery with an Open House on June 1st from 11am – 4pm, at 18206 Spink Lane, Frankfort, South Dakota. Everyone is welcome to tour the creamery, sample cheeses, and enjoy a free noon meal. At the open house, visitors will see how the creamery adds value to the existing dairy operation by making cheese and butter.
Spink Colony currently milks 100 cows, with all the milk going directly to Käsemeister Creamery to be made into butter and cheese. Paul Wipf, Spink Colony manager, cited low milk prices as the driving force behind building the creamery. 
"With milk prices the way they are, it just made sense to build the creamery as a way to add value to our product," stated Wipf. "We are excited to invite everyone to see the new creamery and try some of the delicious cheese and butter we are making."
Käsemeister Creamery officially opened on May 1st, and currently produces Pepper Jack, Colby and cheeses as well as a variety of flavored sharp and mild Cheddar cheese options.  The creamery also produces a unique offering:  Quark cheese. Quark cheese is a described by farm manager Paul Wipf as a "slightly sweet, Italian-style cream cheese".    
The name Kasemeister means "cheese master", and currently the cheese is sold at the creamery's retail shop, as well as a number of local grocery stores, with new retail locations being added daily. Because the milk for the creamery is sourced directly from the Spink Colony dairy, the resulting product is a true farmstead cheese. Each batch of cheese takes about five hours to make, and is then aged from three day to eight months depending on the variety.
The Käsemeister Creamery Open House is being held on June 1stfrom 11 a.m. to 4 p.m. at Spink Colony, located at 18206 Spink Lane, Frankfort SD 57440. Everyone is welcome!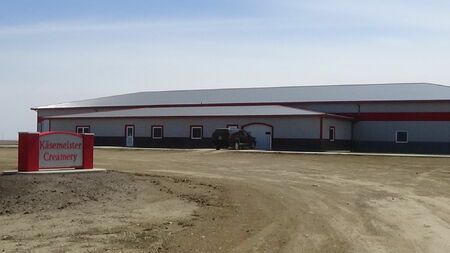 Kasemeister Creamery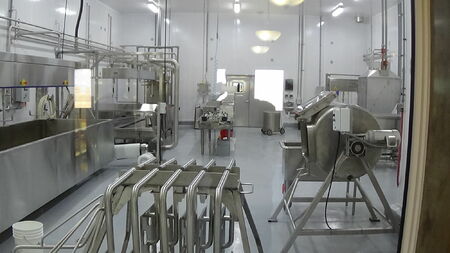 The production floor at Kasemeister Creamery.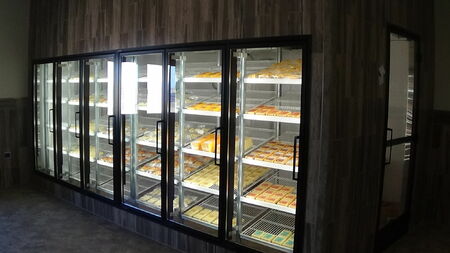 Display case at Kasemeister Creamery retail store.