Spearfish ranchers act as experts and hosts at upcoming Rapid City Beef Crawl
Posted: 5/1/2018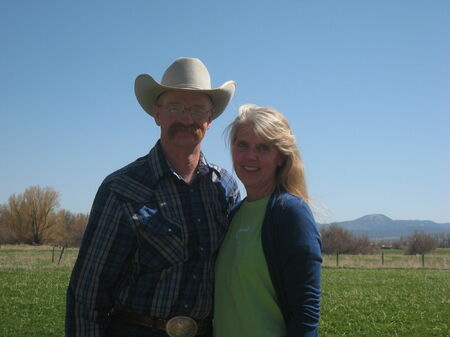 We hear the phrase "Farm to Table" quite a bit when talking about food production and agriculture today.  Ranchers Eric and Michelle Jennings from Spearfish, South Dakota, have a good perspective on what it takes to raise beef cattle that deliver the nutritious and delicious beef products that consumers want, while protecting natural resources, keeping animals healthy and providing a livelihood for farm and ranch families.
Each spring, about 50 calves are born on their ranch and many are raised on the ranch until they are ready for marketing.  The Jennings have evolved their operation over the past few years, downsizing the number of cows and calves they raise, adding cover crops and other practices to better manage pastures and focusing more on retail beef sales.
Instead of selling their calves to backgrounders or feedlots to feed until they are ready for market, the Jennings are now keeping most of their calves and marketing beef direct to consumers or through food service channels.  The Jennings sell both grass-finished and grain-finished beef through a local butcher, at farmers markets and direct to customers wanting full, half or quarters of beef. 
Michelle and Eric have been married for more than 30 years and have raised cattle and crops together since 1989 on the land that Eric's family has owned since 1962. They raise alfalfa hay and some small grain crops as a rotation for alfalfa.  Their main ranch is located north of Spearfish, South Dakota, along Spearfish Creek. They also have property in the Black Hills that they use for summer grazing and timber production.
The Jennings and other ranchers are kicking off May Beef Month on May 7 with the Rapid City Beef Crawlhosted by South Dakota Farm Families and sponsored by South Dakota Beef Industry Council and South Dakota Soybean Checkoff. The beef crawl is a progressive dinner featuring appetizer, entrée and dessert courses at three top restaurants in Rapid City, and the opportunity for diners to ask questions about farming and beef production directly to the farmers and ranchers who raise cattle.
"In the years we have attended there have been many differences in the people we've met," said Eric. 
"Some grew up on farms or ranches and some know nothing about ranch life and raising cows." 
Eric and other ranchers will share information about their families and operations and talk about day to day activities on the ranch.  At previous events, Eric has answered questions about how much assistance cows need during calving season, and specific questions about antibiotic use and other management practices.
They will also share how their farms or ranches have changed over the years to improve animal care, efficiency or sustainability.
"The most rewarding part about being involved in agriculture has always been learning how to improve upon what we do," said Eric. "From the genetic data we have access to now in cattle, to what we have learned about soil health and how to positively affect it, and the genetic advances that have been made with crops, it is exciting to be involved with an industry that has made those advances."
Eric is currently working in his pastures to develop a source of water for livestock away from the creek, which will allow him to create pastures along the creek to better manage the different ecosystems that exist along and away from the creek.  
"I have learned a lot about soil health the last three years and have been incorporating cover crops into our operation when moisture permits and trying to move towards no-till," he said. The Jennings also use artificial insemination to continuously improve the genetics of their cow herd for better health and performance and are constantly monitoring health and nutrition programs for their animals. 
In addition to the Beef Crawl, Eric and Michelle are active in their community and other organizations.
Eric is a regional Vice President of South Dakota Cattlemen's Association and on the South Dakota Agriculture and Rural Leadership(SDARL) Foundation Board of Directors.  He is also president of the newly formed Spearfish Rural Fire Protection District and the chairman of a group starting a new non-profit assistance center in the Spearfish area.  Michelle organizes one of the three worship services at their church and annually goes on a medical mission trip to Honduras.
The Jennings have hosted the Spearfish Chamber of Commerce Leadership class every year to give local leaders firsthand experience in production agriculture and understand the role of farm and ranch families to rural economics and communities.  
"Class participants come to our ranch for half a day, get to learn about and experience some of what we do every day," said Eric. "For some of them it is the only exposure to a real ranch they have had and it is always a favorite part of the class."