South Dakota Students Bring Home First Place Finish in National FFA Agriscience Fair
Posted: 11/10/2021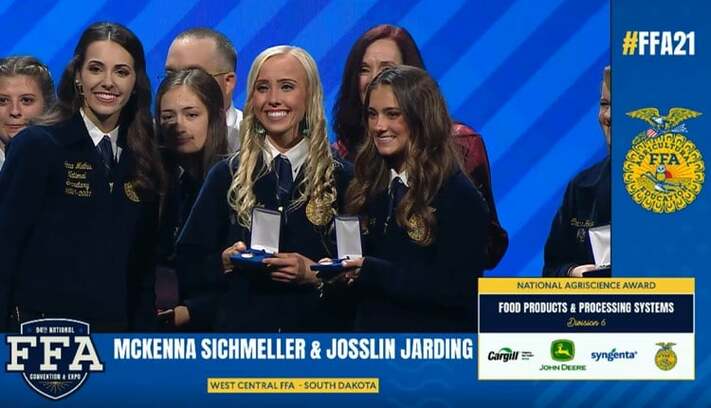 South Dakota Students Bring Home First Place Finish in National FFA Agriscience Fair
A research project to find a healthier alternative for frying potato chips brought home national champion honors for a team of South Dakota high school students.
Josslin Jarding and McKenna Sichmeller, both seniors at West Central High School and members of the school's FFA chapter, were awarded first place in the Food Products and Processing Systems division of the 2021 National FFA Agriscience Fair at the 2021 National FFA Convention in Indianapolis, Ind.
The National FFA Agriscience Fair recognizes students who gain real-world, hands-on experiences in agricultural enterprises. Students use scientific principles and emerging technologies to solve complex problems related to agriculture, food and natural resources. Students compete in one of six categories in the agriscience fair and under one of the six divisions—either individually or in a team.
"The goal of projects in the Food Products and Processing Systems division is to study product development, quality assurance, food safety, production, regulation and compliance and food service within the food science industry," said Jarding. "McKenna and I developed our idea for our project by discussing with our ag teacher different foods we eat every day. We both liked chips and wanted to find healthier alternative oils to use in making them."
The students developed their project by testing the oxidation rancidity of potato chips, the reaction of fatty acids in the presence of oxygen by frying homemade potato chips in different oils to determine the healthiest oil alternative and which oil would cause the chips to last the longest, said Sichmeller.
They tested the chips fried in various oils over four weeks to rate smell, taste and crispiness. They found that coconut oil slows down the oxidation process the most and makes a chip that lasts the longest, and rated the health properties of each oil. Click here to see their research results.
Both Jarding and Sichmeller have been involved in FFA and multiple competition opportunities throughout all four years of high school, including Ag Issues, Ag Communications and Food Science competitions. They credit FFA experiences for helping them improve leadership, communication and other skills.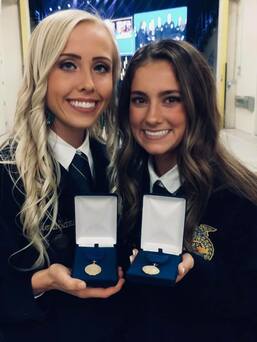 "Being involved in FFA has allowed me to develop leadership and life skills that I will use throughout the rest of my life," said Sichmeller. "FFA has taught me to step out of my comfort zone and to voice my opinions and improve my speaking skills. I truly believe these skills will help me to excel in college and in the workforce with my future dream of becoming a nurse anesthetist."
Living on a farm or even a background in agriculture is not necessary for involvement in FFA.
"I was hesitant to join FFA at first because I live in town and don't come from an agricultural background," said Jarding. "However, I am very glad I joined FFA because there are so many different events to compete in, and being involved in FFA has helped me develop many skills that will help me in the future."
The West Central FFA chapter currently has 96 members and is led by Mrs. Linda Petersen, Agricultural Education Teacher at West Central. Petersen notes that involvement in FFA provides critical experiences regardless of a students' future career path. 
"Agricultural education and FFA help students to become better educated consumers," she said. "They won't all work in agriculture, but they will eat and shop at the grocery store. Many will have lawns and gardens to care for. Ag Ed provides real-world, hands-on experiences for students regardless of their involvement or removal from the farm."
Andrew Rick and Bennett Sebert, West Central FFA students, were also in the top ten of National FFA Agriscience Fair finishers for their project in the Environmental Systems division on the Efficiency of Pheasant Stocking.