South Dakota Sports Rivalry Goes Beyond the Field and Court
Posted: 11/12/2019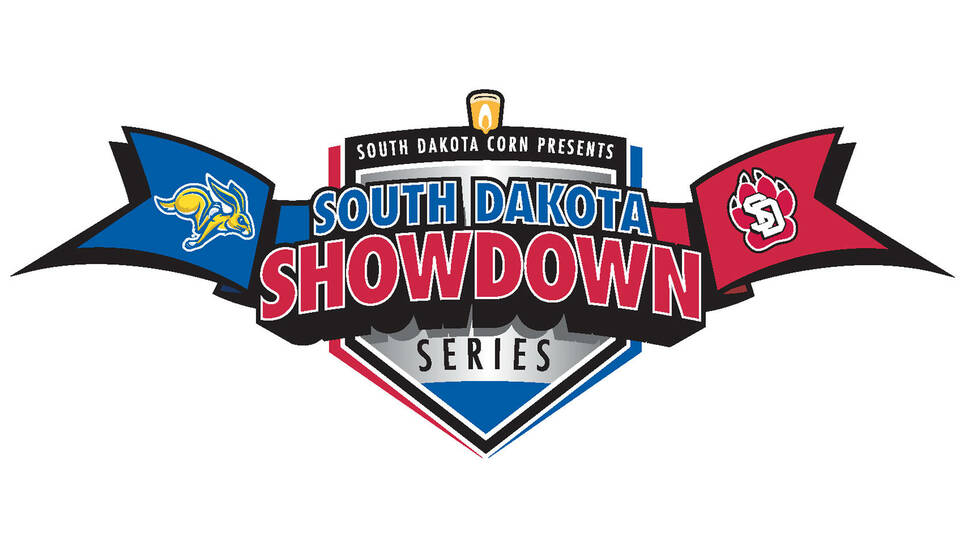 The athletic rivalry between the University of South Dakota and South Dakota State University dates back 130 years to the first football meeting of the two universities in 1889.  Over the years, the schools have competed in more than 560 collegiate athletics head-to-head match-ups in football, basketball, volleyball, softball, women's soccer, women's tennis.  They also compete in Summit League competitions for track and field, golf and swimming and diving. 
The friendly rivalry was taken to a new level with the creation of the South Dakota Showdown Series presented by South Dakota Corn in 2012.  The Showdown Series tracks head-to-head matchups and conference championship results in 16 sports with each school accumulating points toward the overall series championship. The Series also recognizes outstanding academic achievement by the schools' student-athletes.
The school with the most points each year receives a trophy and bragging rights, but the biggest winner in the showdown is Feeding South Dakota, a statewide not-for-profit with the goal of ending hunger in South Dakota.  It has also provided an opportunity for the state's farmers to share information about modern agriculture in South Dakota.   
"Over the first seven years, the Showdown Series has donated more than $300,000 to our efforts, which has provided more than 900,000 meals to South Dakotans in need," said Matt Gassen, CEO of Feeding South Dakota.  "That alone is a huge number.  In addition, the partnership has led to relationships with other agriculture organizations and companies as well as increased awareness and fundraising efforts by students and athletic programs at both schools."
The South Dakota Corn Utilization Council has been the title sponsor of the program from the beginning, in partnership with Learfield Sports on behalf of both SDSU and USD athletic departments.  
"When USD moved back to Division I NCAA competition in 2012, we knew that the in-state rivalry games would capture the attention of students and fans," said Teddi Mueller, marketing and legislative director for South Dakota Corn.  "It provided a great opportunity for a new program that would start conversations about modern agriculture and food production and support Feeding South Dakota at the same time.  After all, the main mission of South Dakota farmers is to feed people, whether they are around the world or in the communities across our state." 
Mueller said the Showdown Series has gained momentum and excitement with each season, resulting in new promotions and activities at the series competitions and involvement from more students, coaches, fans and businesses each year.  
"The SDSU and USD football game draws interest from current students and generations of alumni. It's a fun time to take pride and support your institution and thousands of South Dakotans are paying attention. As a former player and lifelong resident of the state, I can tell you that it is a special day," said Jeff Schultz, former SDSU football player and a dairy farmer from Freeman.  "As farmers become more modern and efficient, less labor is required to produce agricultural products. Events like the Showdown are a good way to tell the public, most of whom no longer have a connection to the farm, that their food supply, which is the most abundant, cheapest, and safest in the world, is being produced responsibly and sustainably right here in South Dakota." 
The program raised $32,000 for Feeding South Dakota in the 2012-13 season, and has increased to about $70,000 each year.  
According to Gassen, one in nine South Dakotans are considered food insecure, and one in six of those are children.  Feeding South Dakota operates three distribution centers that provide food to charities and organizations in all 66 counties in the state.  
"We know we are probably touching more than 100,000 lives each year through Feeding South Dakota's efforts," said Gassen, noting that the organization distributed 15.4 million pounds of food in fiscal year 2019. 
The 2019-20 Showdown Series is underway, with USD currently leading the points standing.  The next matchup is the USD and SDSU football game on Saturday, November 23, in Vermillion.  Excitement is already building … watch for more details about gameday activities on social media!
"The game between the Coyotes and the Jacks was one that you didn't need any extra motivation to get ready for, this game was about bragging rights for the entire state of South Dakota. In my situation, it was also about bragging rights in my own family," said Brian Alderson, Hartford cattle feeder and former USD football player.  "The idea that two football rivals can come together to help raise awareness and funds to fight hunger in our state is a testament to the giving spirit of South Dakota farm families." 
"It has been fun to see how the student athletes and coaches have gotten involved in the Showdown Series and Get Off The Bench programs with videos and photos on social media," said Mueller. 
Attendees at every Showdown Series game can donate to Feeding South Dakota at donation boxes, and anyone can participate in the "Get Off the Bench" program by donating at FeedingSouthDakota.org/Showdown.