South Dakota Farmer Takes National Role
Posted: 10/1/2018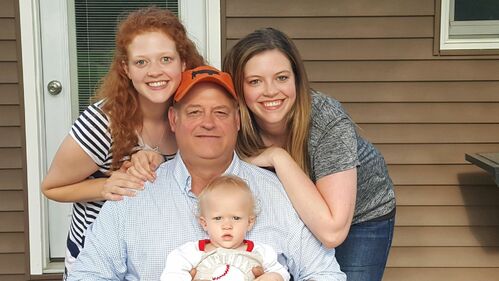 Steve Rommereim with daughters Lara and Leah and grandson Milo.
Celebrating National Pork Month each October provides an opportunity to recognize the impact that farm families who raise pigs have on our food supply, economy and communities. This year's celebration is even more significant for Alcester farmer Steve Rommereim, who is currently representing South Dakota as president of the National Pork Board.
The staff and 15 board members of the National Pork Board are responsible for the education, promotion and research activities that the Pork Checkoff carries out on behalf of America's pork producers. 
Steve began his involvement with local and county pork producers' associations in 1985 and served in a number of volunteer and leadership roles over the years, including 10 years on the board of South Dakota Pork Producers and serving as president.  He was appointed to the National Pork Board five years ago and was voted to a one-year term as president in June 2018.  
He also is past president of Agriculture United for South Dakota and serves on the South Dakota Animal Industry Board.
"Serving in this role is a privilege and I'm excited to have the opportunity," he said. "South Dakota isn't one of the largest pork producing states, but our production is growing and we are fortunate to have many resources for raising pigs."
Steve is the owner, manager and operator of Highland Swine, where he raised about 10,000 pigs each year.  He also grows corn and soybeans. Steve and his wife Charlotte have been married since 1982. Their daughters Lara and Leah are both married and have careers in agriculture.  They have one grandson, Milo, with another grandchild expected in January.
"We are the fifth generation to farm our land, with plans to transition to the sixth generation in two years," said Steve.  "One of the greatest accomplishments in the life of a farmer is to have children come back to the farm to continue our heritage."
Through his roles with producer organizations, Steve has had the opportunity to travel to global markets including Japan, Mexico, Portugal and China to understand the needs of international consumers and export markets.
"As pork producers, we have to remember that we are not only feeding the person buying pork at their local Hy-Vee, but we are also helping feed the world," he said. "It is important to understand what consumers in global markets are looking for and bring that perspective back to our board and producers."
A primary responsibility for the Pork Checkoff is to share information about how pigs are raised as well as pork's role in a healthy diet.   Rommereim notes that just as other industries are working to understand how digital communications can best be used to share information, so is the Pork Checkoff.  They are also working to leverage partnerships with processors like Smithfield, John Morrell, as well as grocery stores and retailers.
"We need to make sure that the people who sell and prepare our product are confident in how pigs are raised, and that we are the resource for them to get information and share it with the end-consumer," he said.  "It is exciting to work with our partners in every stage of the food chain. While it can be complex, it also comes down to having good relationships and building trust."
Another important role of the National Pork Board focus is research, including a top priority now is understanding the African Swine Fever disease impacting pigs in China. 
"Our goal is to be proactive and ahead of problems before they occur," he said. "We are working hard to understand the disease and how it spreads so we can do everything possible to protect herds in the United States"
Learn more about pork production in South Dakota and find recipes to celebrate National Pork Month by visiting South Dakota Pork Producers or following them on Facebook and Twitter.