SOUTH DAKOTA FARM FAMILIES CELEBRATE NATIONAL DAIRY MONTH BY OPENING FARMS TO THE PUBLIC
Posted: 5/31/2018
June open houses feature farm tours, dairy product samples, 
free meals and family-friendly activities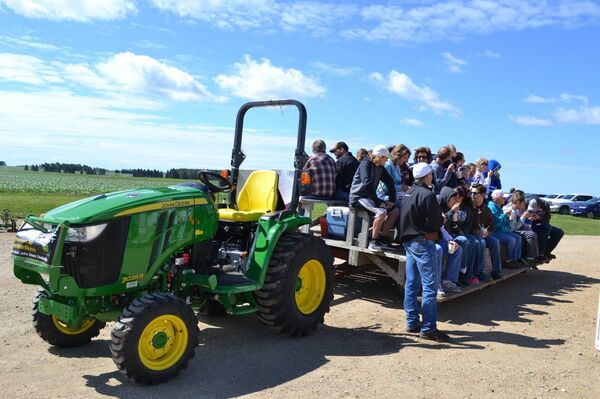 SIOUX FALLS, SD - South Dakota dairy farm families are celebrating National Dairy Month in June with family-friendly events and tours all month long.  
"Tours and open houses during National Dairy Month give South Dakotans the opportunity to see firsthand where the milk, cheese, yogurt, ice cream and other dairy products get their start," said Rebecca Christman, outreach director for Ag United.  "We are excited to share the diversity of farms and the dedication these families have to sharing their story and caring for their animals and land."  
Agriculture United for South Dakota is pleased to announce the following events to celebrate National Dairy Month and recognize South Dakota's dairy farm families.  Each open house will include a free meal and a tour of the dairy farm.
Ag United has hosted open houses in honor of National Dairy Month since 2008, giving thousands of South Dakota families the opportunity to meet dairy farm families and learn about this important industry.  South Dakota dairy farms produce about 274 million gallons of milk and generate about $436 million in milk sales each year, resulting in a  total economic impact of $2.71 billion for dairy products produced and sold in South Dakota.  Visit www.midwestdairy.com to learn more about dairy production and the role of dairy products in a healthy lifestyle.
These events are sponsored in part by South Dakota Farm Families and Ag United, Midwest Dairy and South Dakota soybean farmers and their check-off. 
Visit www.agunited.com, South Dakota Farm Families on Facebook, or @SDFarmFamilies on Twitter for more information on National Dairy Month events or other activities.
Ag United was developed through a collaboration of farm organizations that support livestock production and development and includes the South Dakota Cattlemen's Association, the South Dakota Corn Growers Association, South Dakota Dairy Producers, South Dakota Farm Bureau, South Dakota Pork Producers Council, South Dakota Poultry Industries Association and the South Dakota Soybean Association.