South Dakota Ag in the Classroom Announces Teacher of the Year
Posted: 5/3/2016
South Dakota Ag in the Classroom Announces Teacher of the Year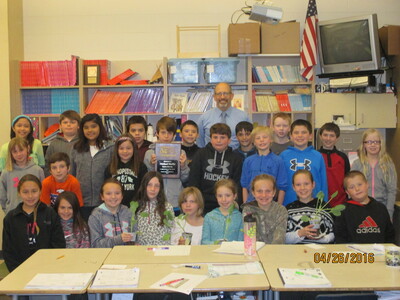 PIERRE, S.D. - South Dakota Ag in the Classroom has named Michael Burke, a fourth grade teacher at Valley View Elementary in Rapid City, South Dakota, as its 2016 Teacher of the Year.
Burke, who has been teaching for 23 years, was chosen to receive the award because of the work he does in his classroom to promote agriculture literacy amongst his students.
Burke was nominated by Rebecca Christman, outreach director for Ag United for South Dakota, for his participation in the Adopt-A-Farmer program hosted through Ag United. In her nomination, Christman explains the program, "Each month their classroom is shown a video about various topics of farm life recorded by an adopted farmer. Michael's classes have adopted Jim Petrik, farmer and pork producer from Gayville, S.D. Each video also includes questions or problems that the students can use fourth grade math, science and reading concepts to answer or solve."
Burke initially got started incorporating agriculture into his classroom because he was looking for a way to involve the community. His classroom started planting a garden outside the school about six years ago. Burke invites other classrooms to participate in the planting and caring for the garden over the summer. The families who help care for the garden get to take some of the items home during harvest.
South Dakota Ag in the Classroom's mission is to be the premier educational organization in preparing individuals with tools to teach our youth the value of agriculture.
Agriculture is a major contributor to South Dakota's economy, generating $25.6 billion in annual economic activity and employing over 115,000 South Dakotans. The South Dakota Department of Agriculture's mission is to promote, protect, preserve and improve this industry for today and tomorrow. Visit us online at http://sdda.sd.gov or find us on Facebook and Twitter.
-30-
Photos available: Burke with plaque; Burke with class; and Burke with SDAITC Executive Director Ann Price.