December Profile: SD Ag Foundation
Posted: 12/15/2021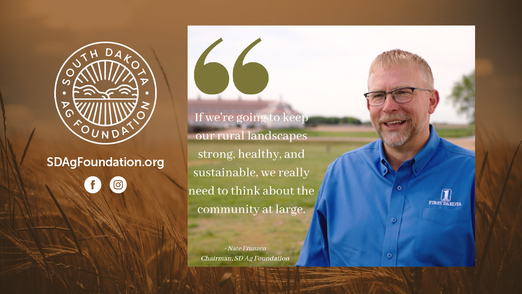 South Dakota Ag Foundation Looks to Future by Growing Leaders, Strengthening Communities
Celebrating the legacy of South Dakota agriculture while building the next generation of agricultural leaders and strengthening rural communities is at the heart of a foundation that was established in 2016.  The South Dakota Agricultural Foundation is an independent, industry-led nonprofit composed of key leaders in the South Dakota ag industry which is both funding projects around the state and growing its endowment for the future.  
"The Foundation was created to inspire a culture of philanthropy in our agricultural industry," said Nate Franzen, president of the Ag Banking Division at First Dakota National Bank, and chair of the SD Ag Foundation board.  "Our most important priorities include building awareness across the state, lifting up agriculture as a whole whenever we can, and promoting cooperation and partnership among ag groups and organizations."
Since its inception, the Foundation has awarded 56 grants totaling $113,500 to support innovative youth ag education programs and rural community projects, and has grown its endowment fund commitments to more than $4 million.
The Foundation's Building Rural Communities (BRC) Grants are awarded to 4-H clubs, FFA chapters and Family Career and Community Leaders of America (FCCLA) chapters for community improvement projects or safety projects.  Ag Innovators Youth Education Grants provide funding for public, non-profit organizations leading the way in providing agricultural education, innovation and leadership programs, focusing on those that find new and creative solutions to the challenges facing agriculture. 
"Our grants are another source of funding for important groups and activities that may lack resources to carry out their important missions," said Franzen. "As we grow the Foundation, our ability to have even more meaningful impacts through grants will grow.  I'm very excited about the long term impact this will have on our agricultural industry."
The Foundation has established formal partnerships with the SD Agriculture and Rural Leadership (SDARL) Foundation and the Central Plains Dairy Foundation, and helped facilitate a consumer communication campaign during the COVID-19 pandemic with cooperation from most of the state's agriculture organization.  At its founding, the Foundation secured matching challenge funds with the State of South Dakota and the SD Community Foundation. 
"We believe a higher tide raises all ships," said Franzen.  "We want to promote and partner with all groups and organizations across the industry."
Another key priority of the Foundation is helping preserve the viability of the state's agricultural industries and rural communities as the landscape and population of the state evolves.
"We want to be a vehicle to help with the coming transition of wealth from baby boomers where and when appropriate, and we strive to stay focused and strategic while maintaining strong flexibility to adapt and adjust in the rapidly changing world," said Franzen.
To learn more about the Foundation, visit www.sdagfoundation.org or watch a video outlining it mission.