Sioux Falls Poultry Crawl is here!
Posted: 11/9/2015
By: Rebecca Christman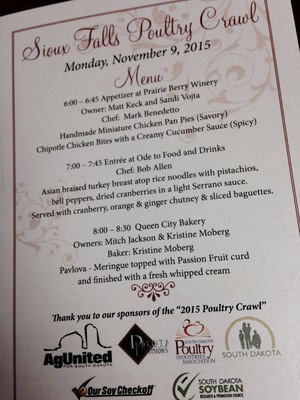 Yum! Look at that menu!
Tonight we are hosting one of my favorite events of the year, right here in Sioux Falls – the Poultry Crawl! The Poultry Crawl is a time to eat delicious foods, and talk with local poultry farmers.
Poultry farms are certainly not as common as beef farms in South Dakota, however they still play an important, and often overlooked, role in supplying turkey and eggs to people in our state and across the nation. In our state we usually raise over 6 million turkeys and chickens each year1. This past year the avian flu was devastating to the poultry industry in our state. Ten farms in South Dakota were hit with the virus last summer. Despite this devastating blow to the farms, farmers are working on restocking their animals and increasing biosecurity.
This process will take time, but South Dakota farmers are hard working and resilient. So far the nine turkey farms are raising birds again.2 Dakota Layers, which is currently South Dakota's only egg laying farm, is planning to begin selling eggs again starting in January.3
With this is mind, the Poultry Crawl will be a time to talk about the trials of the last year, and celebrate future of the poultry industry in South Dakota.
Sources:
http://www.mitchellrepublic.com/news/local/3870967-egg-producers-yet-recover-avian-flu
http://www.agweek.com/news/south-dakota/3871363-sd-chicken-farm-takes-steps-restock-after-bird-flu
Listen to this week's Farmer's Daughter segment here! FARMERS_DAUGHTER-NOV_9TH.mp3