Sioux Falls Beef Crawl 2016
Posted: 11/14/2016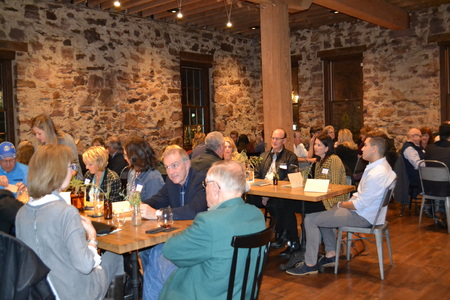 Do you love trying new foods? Are you interested in learning more about how farmers care for their animals? Join us tonight for the Sioux Falls Beef Crawl!
The beef crawl is a progressive dinner, where guests will eat an appetizer, entrée, and dessert at three different restaurants in downtown Sioux falls. Each course of the meal will include beef, even the dessert! Prairie Berry East Bank, Crave, and Queen City Bakery will be the three stops of the evening. You know that you can't go wrong eating at any of them!
Sioux Falls Beef Crawl Menu
6:00 – 6:50 Appetizer at Prairie Berry East Bank
Chef: Mark Benedetto
Korean BBQ Tostada
Traditional Mexican Chili Tostada w/ habanero pepper jelly
7:00 – 7:50 Entrée at Crave
Chef: Alex Keehn
Black and Blue Beef Medallions
steak medallions coated with blackening seasoning, grilled to perfection then smothered in a creamy blue cheese sauce with mashed potatoes, grilled asparagus


8:00 – 8:30 Dessert at Queen City Bakery
Baker: Kristine Moberg
Mincemeat Pie
In addition to the delicious food we'll be eating, guests will also be dining with local farmers that raise cattle. They will be the experts of the evening, answering any questions you have about how beef gets from the farm, to your plate!
Cattle Experts
Matt & Sari Bainbridge
Pete and Eli Bakken
Rod and Suzy Geppert
Brandon and Laurie Johnson
Holly Swee
Richard and Joyce Vasgaard
We hope you will join us tonight for the Sioux Falls Beef Crawl. If you can't, follow the event online on Facebook, Instagram, or Twitter! Photos from the event can be found on Facebook after the event.
Listen to this week's Farmer's Daughter radio segment here: 11.14.15_Farmers_Daughter_Beef_Crawl.mp3