Sharing the Farm Story with Passion
Posted: 4/10/2018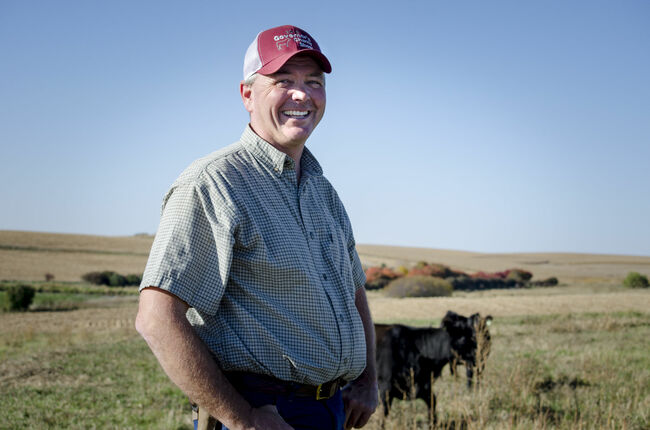 April Featured Farmer: Pete Bakken
Living on the border between South Dakota and Minnesota gives Pete Bakken twice the opportunity to share information about his farm.  From fourth grade classrooms in Sioux Falls and Garretson, South Dakota, to local farm tours and the Minnesota State Fair, Pete has made it a priority to take time to listen to questions that people have about how today's farmers raise crops and livestock.
"As farmers, we're often too busy to have many hobbies, but over the years I've enjoyed doing outreach about agriculture and farming," said Pete. "It has turned into both a hobby and a passion." 
Pete and his brother Jay Bakken own and operate BLAC-X Farms in Rock County, Minnesota.  Their father Richard has transferred ownership and management to Pete and Jay, but is still involved in many activities around the farm and cattle feedlot.
The Bakkens raise corn, soybeans, alfalfa and cover crops. They have a beef feedlot with capacity for 3,000 head, and they raise a herd of about 230 beef cows that calve every spring.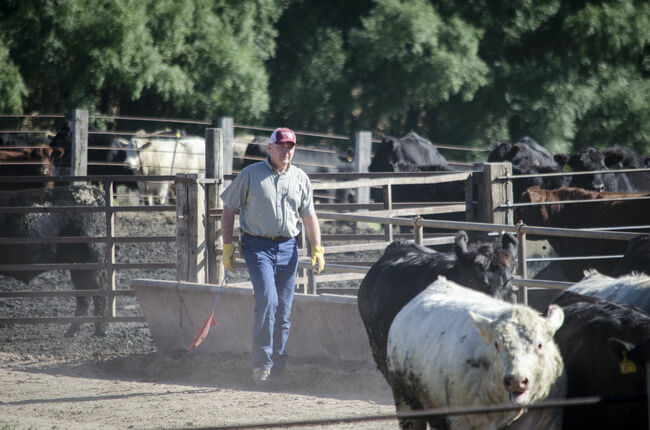 Pete's wife, Carrie, teaches in Luverne.  They have two children – Mikayla is 21 and Eli is 18.  
Pete is in his fourth year of serving as an "adopted farmer" for Ag United.  He shares a video every month with a fourth grade class at Harvey Dunn elementary in Sioux Falls and two classrooms in Garretson, South Dakota. In addition to videos, he answers questions and visits the classroom in person once a year.  
Pete is very active in a number of agriculture organizations and local boards.  He is the Promotion and Education Chair for Minnesota Farm Bureau and active in local cattlemens association, as well as serving on the Beaver Creek Township Board.  
His interest in sharing his farm's story has evolved over the years as a result of conversations on airplanes and other places with people who have question about farming today.  
"It is a compliment to our industry that most people feel comfortable going to the grocery store with the confidence that their food is safe, affordable and wholesome," he said. "I've found that most of the time people who have questions or concerns just want to understand why farmers or livestock producers do what they do."   
When we have a conversation, farmers can usually explain the reason behind the practices on our farm, whether it to provide better care for the animals, to protect health or safety, or for financial reasons, he said.  
The Bakkens work to constantly improve how they care for their animals and conserve the land. In January, Pete and Jay were awarded the 2018 National Beef Quality Assurance (BQA) Award for Feedyards by the National Cattlemen's Beef Association.  The award recognizes outstanding beef and dairy producers that demonstrate animal care and handling principles as part of their day-to-day operations.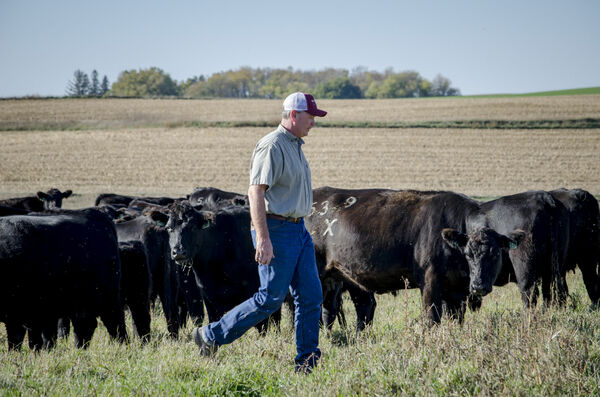 The Beef Quality Assurance(BQA) protocol provides accountability for beef producers and reassurance to consumers about how we treat our cattle, said Pete.  It is a national program that provides guidelines for animal husbandry practices, how animals are handled during transportation, as well as use of medications and antibiotics.  
"The focus is on low stress handling to keep animals calm and people safe, and also good record keeping to ensure that we are using medications responsibility and following all labels and withdrawal times," said Pete.  "Everyone who works with cattle on our farm completes the BQA training every three years."
The Bakkens also participate in Discovery Farms Minnesota, a state-wide, farmer-led effort to gather water quality information under real-world conditions. 
"The program is an effort to provide real 'boots on the ground' information and data so that we can continue to improve soil health and water quality in our state," he said.
The data from the project has reinforced their belief in the use of cover crops and other conservation practices.
"By leaving residue on the fields, it keeps the soil healthy and builds a good structure to keep moisture and nutrients in the soil," he said.  "In one instance, we had a period of 13 inches of rain, and we only lost .6 inches of water – the soil was able to hold all the rest of it."
Cover crops are planted following the harvest of cash crops like corn or soybeans.  They provide "cover" to prevent erosion and provide a structure to hold water and nutrients throughout the year.  The Bakkens have experimented with a number of crop and techniques for planting, but are currently planting a combination of turnips, radishes and cereal rye grasses. The crops are terminated just before planting the next year's soybean or corn crop.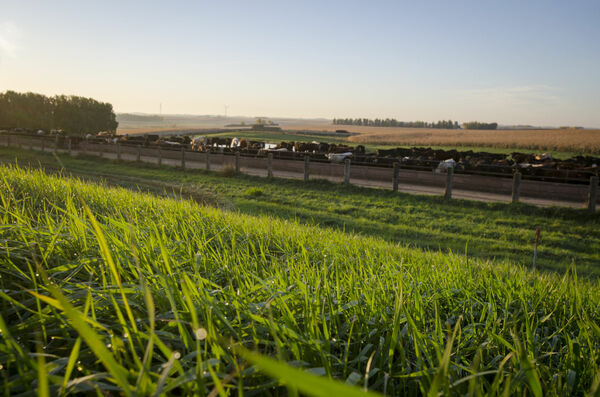 "We are from a long line of farmers that have been adopting conservation practices and we are always looking for the best ways to improve soil health hand soil structure," he said. 
Get a closer look at BLAC-X Farms by watching some of the videos that Pete sent to his adopted fourth grade classrooms, including during corn plantingand calving season. These videos were recorded and hosted by Michelle Rook. Pete also records short video updates on his phone throughout the year. 
 *Photos courtesy of MN Beef Council.