Sharing the Beef Story from South Dakota to New York
Posted: 9/10/2017
Eric Sumption, September Featured Farmer Profile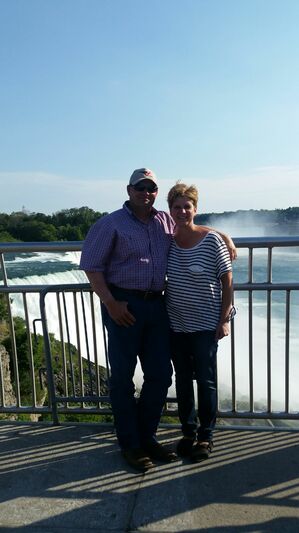 Eric and Stacey Sumption
A passion for cattle and farming runs deep in Eric Sumption's family. Since the land near Frederick, South Dakota, was homesteaded by his great-great-grandfather in 1881, family members have worked together to raise crops and livestock. 
Eric farms with his parents, John and Margaret, and four brothers: Chris, Mark, Taylor and Warren. Like any family business, farming with siblings requires constant communication and sharing the workload. They have about 1,000 cows that have calves each spring.  They raise the calves, keeping some to be replacement heifers, and raising the others as feeder cattle.  The Sumptions also raise corn, soybeans and oats on about 15,000 acres, and have a herd of purebred Angus cattle.
"We're fortunate that we each have training in different areas such as mechanics, hydraulics, and agronomy.  We can cover the spectrum of what needs to be done," said Eric. "We each are able to focus on what we like to do, then work together during busy times or when someone needs help."
The brothers also make sure that the next generation has opportunities to help at the farm. There are 21 grandchildren ranging in age from one year to 26. Several are interested in returning to the farm business, so the brothers are working through transition planning for the next generation as well.
"It is a little hectic around the farm shop on weekends with lots of kids hanging around looking for ways to help.  We love to have them all around and get everyone involved," he said.
L to R: Jonathan, Hannah, Adam, Hailey, Stacey, Maddie, Eric, Jakob
Eric and his wife, Stacey, have five children. Hailey married last summer and she and her husband Adam Dutenhoffer raise cattle near Westport, SD.  Jonathan is a sophmore at South Dakota State University. Hannah is a senior, Jakob is an 8th grader, and Maddie is a 6th grader, all at Frederick Area School.
As a representative of South Dakota Farmer's Union on the South Dakota Beef Industry Council board of directors, Eric has an opportunity to share his family's commitment to raising cattle with consumers in South Dakota and beyond.  If elected he will be serving as President of the Council for the 2018 year.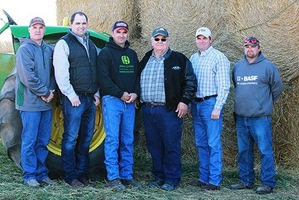 Eric with his family / farming partners. 
This summer, Eric and Stacey traveled to New York to represent South Dakota beef producers. They helped host tour groups to New York farms and gave a presentation about of how beef cattle are raised on their farm.  Participants in the tours included teachers, retail and food service representatives, chefs, dietitians and others.
"We answered a lot of questions about GMO crops, that cattle eat some type of grass their entire lives, implants, and lots more," he said. "It was a great opportunity to tell the whole story because many times they are only hearing partial information, and when we can explain why we do something, it makes more sense."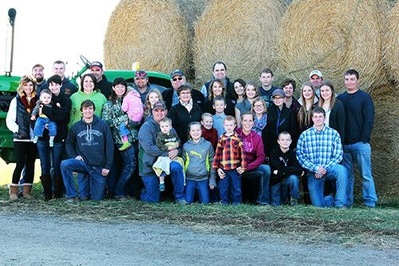 The Sumption family. There are 21 grandchildren and several are interested in returning to the family business.
Eric said that the biggest misconceptions they heard from the groups in New York was that 'Big is Bad,' with people assuming that because a farmer has more cows or acres to care for, they don't pay as much attention or don't care about them as much. 
"I explained that, because there are five of us involved in the business, we can do as good or a better job of watching each animal, and we are able to invest in facilities and develop processes to ensure the best care," he said. "Because we are caring for the cattle from birth to when they are shipped to the processing plant, or 'conception to consumption,' we can monitor them closely and we can make changes to make sure we are constantly improving.
Technology is becoming a more important part of raising cattle.  Just as precision agriculture is allowing crop farmers to know more about their fields, the Sumptions know more about each animal than they have ever before.
"We use an electronic ID system to track each cow or calf.  Any time we have to treat a sick animal with medication, we can record it and pull up those records anytime on our computer or phone apps.  It reduces paperwork and increases accuracy," he said.
The system also allows Eric to record the animal's weight regularly and track it's progress.
"It is important to us to get information and data on every group of cattle so that we can do a better job, which will ensure we produce better, more consistent beef for consumers," said Eric.
| | | |
| --- | --- | --- |
| | | |
|   | A few photos from Eric and Stacey's New York Trip. |   |
The trip to New York is part of a program between the Beef Councils in the two states.  Some of the producer checkoff funds collected in South Dakota are used to fund outreach programs in New York.
"New York and South Dakota are almost exact opposites in terms of the number of cattle and people in the state.  We have a lot of cows and not many people, and New York has a lot of people and not many cows," he said.  "This allows us to put our producers' checkoff funds to work not only in South Dakota, but also in a place like New York that is very important to public opinion and beef consumption."
The South Dakota Beef Industry Council is also very active sharing information about the role of beef in a healthy diet through a number of programs and events in South Dakota.  Learn more and find  information on their website and Facebook pages.