Right Place, Right time - Farmers Using Technology to do More with Less
Posted: 7/3/2019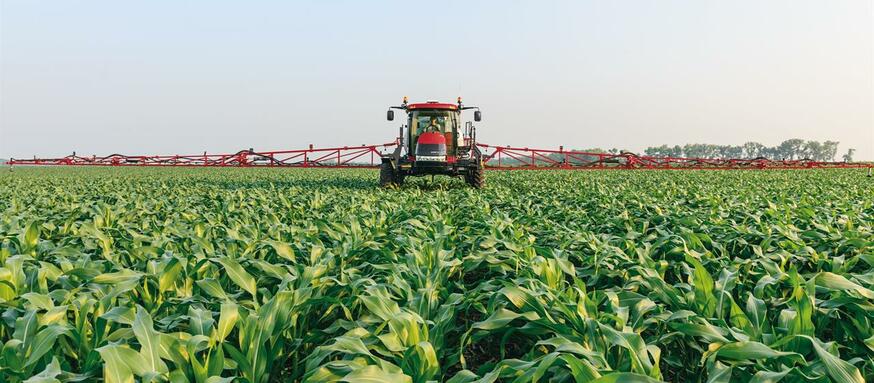 Innovations and technologies in agriculture are allowing farmers and the professionals they work with to be both larger and smaller at the same time. How is that possible?
Andrew Holland, owner of Yield Pro, a custom application and retail business in Montrose, South Dakota, is a great example. In May 2010, he started his business to custom apply fertilizer and crop protection products on farmers' fields. He also sells crop inputs like 
seed and fertilizer, and provides a number of services to help farmers be more productive, including soil sampling and precision agriculture consulting.
During busy seasons, Andrew and a team of five employees face tight timelines to apply the right product to fields at the right time.  Each product has a detailed label with specific instructions on application rate and timing for each crop. And, they often have to change plans quickly when Mother Nature deals a challenge like rain or high winds.  
The equipment he uses to apply fertilizer and other products is impressive.  The sprayer has two booms that unfold in the field to a full span of 120 feet (as comparison, a football field is about 160 feet wide from sideline to sideline)!  The sprayer's tank can hold 1,200 gallons of liquid.
However, when you see sprayer equipment moving through fields, it is important to note that most of that liquid is actually water.  It just requires a small amount – as small as a cup of coffee – of chemical on each acre(about the size of an entire football field). Check out this videoof North Dakota farmer Sarah Wilson explaining that the chemicals used on their farm is really "not a latte."
Even more impressive than size of modern equipment, though, is the technology that allows Andrew to control the rate and amount of product applied throughout the field, adjusting even the droplet size. Farmers are able to measure and track what is planted, applied and harvested from their fields not just to the acre, but even to the square yard, foot or inch. 
Farmers work with professionals like Andrew to review their fields before, during and after the growing season to make sure they are being as productive and sustainable as possible. 
Soil sampling is an important part of many farmers' planning process.  Small samples of soil are taken in grids or zones across a field, then analyzed.  A map is created to show the amount of nutrients in each section of the field.  Andrew then works with the farmer to develop a plan or "script" to apply different rates of fertilizer to the fields depending on what areas need it most.  
"I do a lot of variable rate work for my customers, from writing the recommendations and developing the scripts, then uploading to their equipment," said Andrew.  "This is one area that has helped my customers' succeed over the past five years."
This type of variable rate technology is also used for other crop inputs.  For example, planting higher rates of seed in areas of the field where soils are more productive.  
"GPS along with automatic shutoffs on sprayers and planters has allowed us to be more precise on the amount of seed planted and amount of fertilizer and crop protection products we apply," he said. "We are placing the products where they need to be for the customer to be successful and significantly reduced overseeding and overapplying that may have happened 10 years ago. 
Using GPS systems with autosteer and other technologies, farmers and customer applicators like Andrew can follow the scripts exactly and keep records to review during the season and after harvest.   
"I work a lot with precision data capture to help farmers see realtime results in their fields throughout the growing season," he said.  "Then we can go back and look at those maps to make recommendations for following years." 
Andrew was raised on a cow calf operation near Montrose, South Dakota, and also helped local grain farmers.  He and his wife Jessica have two sons: Macon and Angus.
Andrew notes that the technology advancements and improved management practices – whether they are large or small – have an important effect on not just farmers, but rural communities across the state. 
"Many of the local businesses depend heavily on the business they do with our farm families," he said. "The development of new opportunities for young farm families in rural South Dakota is crucial to the sustainability of our communities."