Rapid City Beef Crawl Recap
Posted: 5/13/2016
By: Rebecca Christman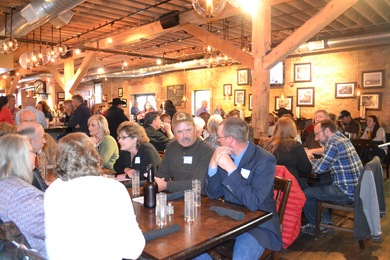 The group expectantly waiting to see what the entree was at Murphy's Pub!
May is Beef month and I can't think of a better way to celebrate than trying new beef dishes! Earlier this week we hosted the Rapid City Beef Crawl with the South Dakota Beef Industry Council and 60 people got the chance to try beef prepared in a variety of ways while also talking with local ranchers. Eating beef, while talking with the people that raise it … is there a better combo?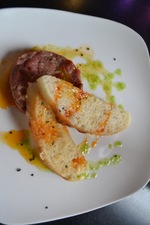 Beef Tenderloin Tar Tare
The 4th annual Rapid City Beef Crawl started at kŌl, where Chef Cody Bartels prepared beef tenderloin tar tare with a parmesan crostini for an appetizer. I had never had tar tare, and neither anyone that I spoke to from our group. The tar tare was a ground tenderloin, mixed with a variety of spices and oils and served raw. I have to admit that I was a little hesitant to try the dish, however it was very tasty. I would compare it to a beef style sushi.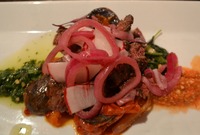 Skirt Steak Chimi Churri
After the appetizer, the group moved to Murphy's Pub for the entrée. Despite the name, the restaurant didn't serve a dish that I would have expected in a pub. Chef Blake Itterman prepared a skirt steak chimi churri with purple potatoes, blistered tomatoes, sautéed kale, shallots, garlic, radish, and pickled onion. Skirt steak can be a tough cut of meat, but it was cooked to medium rare so the meat was still very tender. The purple potatoes went very well with the meat, and our table decided they tasted "earthy." They were more flavorful than your standard Russet potato.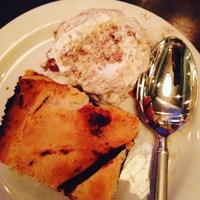 Sweet Beef Empanada with German Chocolate Cake Ice Cream
Finally, we tasted a Sweet Beef Empanada at the Vertex Sky Lounge in the Hotel Alex Johnson. The empanada was sweet, savory, and included cinnamon and beef. It tasted a little like a cobbler and went very well with the German chocolate cake ice cream they served on the side. Dessert was the most interesting stop of the evening, and I'm sure it was a feat to make a beef dessert that also tasted delicious. The chef for the evening, Gary Wood, definitely showed us his talent!
All in all, the evening showed the versatility of beef, and showcased the ranchers that raise it. From the grasslands of West River, to the corn and soy fields of eastern south Dakota, and the feed yards that dot the landscape in between, there any many farmers that play a part in getting steak to your plate. Even though beef crawl is over, there are still plenty of opportunities to try out a new beef dish. There's no better way to say thank you to those that raise beef than to throw your favorite beef cut on the grill during Beef Month!
Listen to this week's radio segment here: FARMERS_DAUGHTER-MAY_9TH.mp3