Posted: 4/30/2015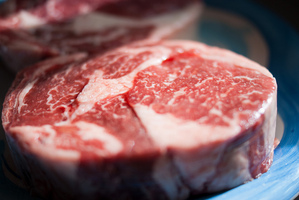 Photo By: Taryn
https://www.flickr.com/photos/tarale/
When I go out to eat, my favorite thing to order is a nice, juicy steak. I'll order it cooked to medium, and when it comes out I'll finish the entire thing. Even though I grew up on a cattle operation, when I'm eating I probably won't think much about what it took to get the steak on my plate.
Cattle producers today have a variety of choices of how to raise their animals. Producers have to make a choice about what works best for them. This choice comes down to how farmers can best care for the animals, and what works for their farm.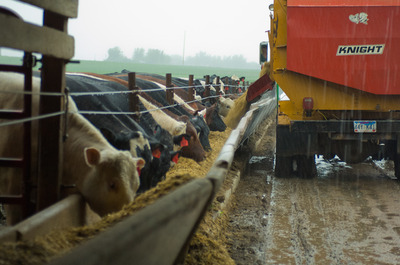 At our farm, we have a feedlot. The cattle are brought to our farm when they weigh about 600 pounds. They will stay at our farm until they weight about 1,300 pounds and then they are sold. We provide the cattle with food that is appropriate for their stage of life. A nutritionist balances the ration and it changes as they grow. Their feed is a mixture of silage, hay, corn, distillers grain, and vitamins and minerals.
Just like humans, cattle are able to eat a variety of things. Because cattle are ruminants, they are able to digest some things that other animals can't. Their four stomachs work together to break down grass, alfalfa, and hay, among other things. Cattle aren't limited to eating grass, their amazing stomach just means they are able to eat a wider variety of feeds!
At South Dakota Farm Families, we are gearing up for our first open house of the year. Nesheim Farms near Ethan has just built a brand new cattle feeding building with a pit underneath, and they are letting people inside to see exactly how it works.
Whether cattle are fed outside in lots, in a building, or on grass, cattle producers are doing their best to raise the steaks for you to enjoy.
Listen to this week's radio segment here! FARMERS_DAUGHTER-_APRIL_27TH.mp3