Raising Livestock through Trust and Transparency
Posted: 1/30/2018
Featured Farmer Profile – Rodney Elliott, Drumgoon Dairy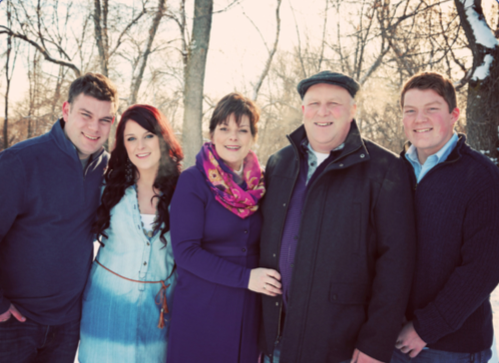 There is often a great deal of discussion and news coverage when a South Dakota farm family applies for a permit to build or expand a livestock farm.  What happens after their permit is approved and the animals move in? 
Regulations and inspections vary depending on the type of animal and size of farm, but it is safe to say that all permitted concentrated animal feeding operations are monitored on a regular basis to ensure that manure management, animal welfare, employee safety and many other requirements are met.  These include requirements from state, federal authorities as well as guidelines from farm industry organizations and the processors who buy the milk, meat, eggs or other products raised on each farm.
For Rodney and Dorothy Elliott of Drumgoon Dairy near Lake Norden, inspections and documenting activities are part of the daily routine and help them ensure that the dairy is doing the best it can for animals, public health, environment and employees.
"We view the permits we have to raise animals and produce milk as a privilege not as a right," said Rodney.  "We have to work hard to protect those rights and we want to make sure that there aren't any issues that would cause regulators, neighbors or community members to question what we are doing."
The Elliotts relocated from Northern Ireland to South Dakota to build a new dairy farm.   They began milking cows at Drumgoon Dairy in 2006.  After an expansion in 2014, they now milk about 4750 cows in two milking parlors on the farm.  They also raise about 4000 calves and heifers.   All heifer calves are raised at Drumgoon Dairy until 6 months and then sent to a farm in Kansas to be grown, bred and returned to the farm at 7 months pregnant.
All dairy farms in the state follow strict testing processes for the milk and meat produced there. Each truckload of milk - up to six tankers a day for Drumgoon Dairy - is tested at the farm and again at the milk processor to make sure it is free of antibiotics and other contaminants.   In addition, every animal that is sold and processed into meat is inspected at the processing facility. If there are any concerns, the meat is held and all testing completed before it is processed further. 
Both state and federal milk inspectors conduct unannounced on-site visits to dairy farms to make sure that the milking parlor, milk storage and other dairy facilities meet health and sanitation requirements.  Inspectors have a detailed checklist to confirm that the farm is safe and sanitary for animals, employees and visitors.
"We have to be ready every day," he said.  "They are looking for everything from making sure the animals have clean, fresh water to providing restroom facilities for employees, milk haulers and visitors."
Inspectors also review animal health records and the farm's protocols for caring for sick animals.  They review what medicines are given to sick cattle and how milk from treated cows is disposed of so it doesn't enter the commercial supply. 
Another important area is the storage, handling and application of manure for fertilizer.
Livestock farmers must maintain updated plans that detail how livestock manure will be stored, and how and on what crop fields it will be applied to as fertilizer. These plans are kept on file at the farm as well as with state agencies.
"We submit paperwork each spring and fall to document that we've followed the protocol established in the manure management plan," said Rodney.  "Proper application of manure ensures that needed nutrients are absorbed in the soil and minimizes any runoff or wasting of nutrients." 
The dairy hires an independent company to test the nutrient makeup of the manure fertilizer and the soils where it will be applied.
"Manure is a valuable source of fertilizer, but we have to make sure that we are putting the right amount in the right fields at the right time of year," he said. 
Manure storage facilities are inspected each year by South Dakota Department of Environment and Natural Resources employees.  Dairy employees review the manure storage facilities every week, but Rodney noted that informal inspections happen much more often.
"When we completed a recent expansion, we designed it so storage would always be easily visible. We drive by it often, so we are constantly monitoring and making sure everything is working the way it should," he said.
As Drumgoon Dairy has grown, so has its team of employees.  They now employ 53 people, which qualifies the farm as a "medium-size employer" and requires them to meet safety, tax and other requirements like other non-farm companies of their size.
"Human resources management has become a huge part of what we do every day, making sure that we are meeting all the appropriate safety training, safety equipment, insurance, and other requirements," he said.  "These are important and should be expected from an employer in our community."
The Elliotts also follow guidelines established by the dairy industry to ensure that farms meet standards for animal care.  Milk processing companies and cooperatives routinely review protocols to certify each dairy farm.  Beef, pork and poultry associations have similar training and accountability programs for their members. 
The Elliotts' approach to farming and caring for their animals and environment has stayed consistent from the days when they were farming in Northern Ireland.
"From the first cow I owned in Northern Ireland to every cow on our farm in South Dakota, the cows always come first," said Rodney.   "Farm size doesn't matter when it comes to taking care of our animals.  We all have to have the best practices and equipment and pay attention to every detail."
Technology, however, has allowed them to share their stories and hold everyone even more accountable.   
"We have a number of people on the farm each day – employees, salespeople, service providers and visitors - and each one of them now has a video camera in the phone in their pocket," said Rodney.  
The farm regularly posts videos of daily activities on their Drumgoon Dairy page on Facebook and has hosted a number of tours and open house events. 
 "I view the right to farm here as a blessing, and something I have to work to maintain every day," said Rodney. 
If you want to read more about the Elliot Family, check out this article by Midwest Dairy!