Posted: 11/13/2014
The Farmer's Daughter
11/13/14
Preparing for winter
by: Rebecca Christman
I know this is something we don't like to talk about, but winter is right around the corner. If you're like us, you might have had your first snowfall of the season. This past week farmers were taking advantage of the last few days of fall to prepare for winter.
While I prepare for winter by stocking up on cozy sweaters and hot chocolate and making sure I have a shovel in the trunk of my car, preparations on the farm are a lot more work. At the family farm, we are using these final few nice days to fix fence, haul hay bales, and move cattle to ensure that everything is ready for winter. These are things that are best done when it is nice out. Moving cattle or fixing fence in sub-zero temperatures is not my idea of a fun day.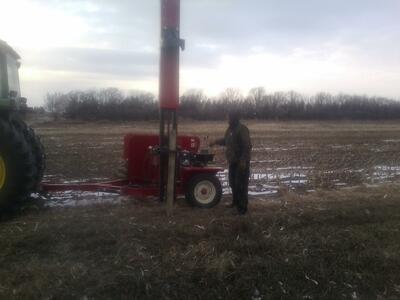 In their own way the cattle are also preparing for winter. They have started growing a thick, heavy, coat of hair to keep warm this winter. Cattle's thick hides and hair help them withstand the cold temperatures. As farmers we also try to give the cattle a little extra protection from the cold.
In the summer and fall, the cattle graze on fresh grass in pastures, but in the winter, that grass gets covered with snow. So, we move our cattle closer to home each winter so we can provide feed and bedding for them. It also allows us to keep a closer watch on them throughout the cold months. The trees around the home pastures will also provide protection from the wind and snow.
We have had a gorgeous fall and, while we're hoping that the weather stays nice for as long a possible, this is South Dakota and we know that the snow and cold are inevitable. Even on cold days, we have to go outside to take care of our animals, but we're always hoping there's a mug of hot chocolate waiting for us when we make it inside.
Listen to this week's radio segment about preparing for winter here! FARMERS_DAUGHTER-NOV_10TH.mp3