Posted: 10/28/2014
Celebrating "The Other White Meat".
By:Rebecca Christman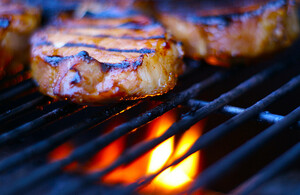 Photo by: Christopher Aloi
https://www.flickr.com/photos/aloi
It's October and while most people are getting ready to celebrate Halloween, we are celebrating pork month! I grew up around beef, but that doesn't mean I don't appreciate a great pork chop or a savory piece of bacon. Listen to this week's segment of The Farmer's Daughter here. FARMERS_DAUGHTER-OCT_27th.mp3
Pork chops and ham are everyone's favorite, but there are 20 cuts of pork and hundreds of recipes out there! Pulled Pork is one of my favorite slow cooker dinners. Find the recipe for "The Perfect Pulled Pork here!
You can find more creative ways to use pork at porkbeinspired.com. There's sure to be a recipe your family will love. Pork is also a healthy option. Six cuts of pork meet USDA guidelines for lean, with less than 10 grams fat, 4.5 grams saturated fat, and 95 milligrams of cholesterol per serving.
If you're a fan of local food, you'll be excited to know that South Dakota is ranked number 9 in the nation for hog production. Here we have 600 hog farms and 98 percent are family owned. The families that are taking care of these animals do all they can to provide a safe, healthy, environment for the pigs. For more information on pork production in South Dakota, visit the South Dakota Pork Producers Council web site or follow them on Facebook.
In addition to making breakfast, lunch, and dinner delicious, pigs also provide us with 150 other products that people use each day! Paint, insulin, leather products, and heart valves for transplants are just a few of the by-products the come from pigs. Even if you didn't eat pork today, there's a good chance you used something that a pig helped make.
Whether you buy your pork from the local farmer's market or the grocery store, you can be sure there's a farmer behind your meat that cares. When you head to the grocery store this week, be sure to pick up some pork to celebrate Pork Month!