Pig Farmers Make Pork for Our Fork!
Posted: 10/24/2016
By: Rebecca Christman
It's October, a month of cool weather, changing leaves, and pork. We know it's not at the top of your mind when thinking about fall, but it should be! Every year in October we celebrate pork month and take a little time to say thank you to the 800 pig farmers that we have in South Dakota. They are the ones that bring us bacon, pork chops, hams, and all of the yummy pork products that make it to our table.
If you've been to a pig farm, you probably noticed it looked a little different than you may have imagined. Many farmers care for their pigs in climate controlled buildings, that allow farmers to keep a close eye on their animals. Mitchell farmer, Peggy Greenway, does a great of explaining how they care for pigs on their farm in her recent article.
Whether you feel like firing up the grill, throwing a meal in the crockpot before work in the morning, or you want to make a fancy meal, there's a perfect recipe made with pork. The word "simple" would describe my cooking style, and thankfully my go-to pork recipe is just that! Best of all, leftovers can be transformed into delicious pork tacos later in the week.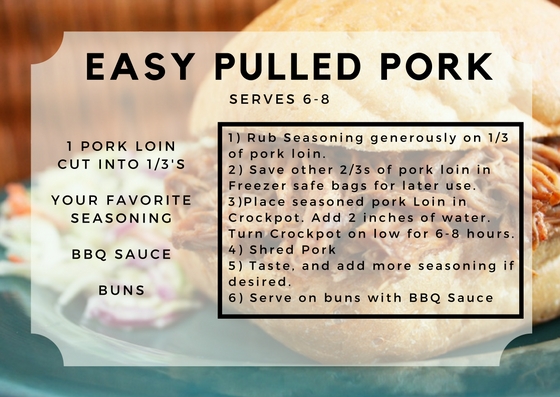 Caring for pigs can be a lot of work, so we're thankful for the farmers in South Dakota commited to taking care of them. This month, the best way you can say thank you to pig farmers in South Dakota, is to buy an extra package of bacon to serve with breakfast. Happy Pork Month!
Did you miss this week's Farmer's Daughter? Listen online now! Tune into "It's Your Agri-business" on KELO 1320 AM or 107.9 FM on Mondays between 10am - 11am to listen live! 10.24.16_Farmers_Daughter.mp3