Partner Profile:  Dave Christensen, Valley Queen Cheese
Posted: 6/3/2019
Each June, National Dairy Month is a great opportunity to enjoy delicious dairy products and to recognize the people who make those products possible.  From farm to grocery store, it takes a team of dedicated professionals to produce, deliver and process the milk, cheese, yogurt, ice cream and many more products
 we love.
Dave Christensen has been a milk hauler for Valley Queen Cheese for seven and a half years.  He is responsible for transporting milk from farms to the Valley Queen cheese plant in Milbank, but that is only the beginning. Dave and other milk haulers play a critical part in ensuring the quality of each tank load of milk, and ultimately, the cheese that is produced by Valley Queen and shipped around the country.
Dave grew up on a farm near Marvin, South Dakota, and has been involved in agriculture his entire life. He worked on farms of several neighbors, then owned his own tractor-trailer to haul livestock for about 15 years before joining Valley Queen.  Dave and his wife Jolene have two adult children and one grandson.
"As a milk hauler, I am home every night," he said.  "Valley Queen is a good company that turned 90 years old this year. The dairy producers are good to work with and so are my fellow employees." 
Each day, Dave picks up two to three loads of milk, each containing 52,000 to 53,000 pounds.  Even during challenging weather conditions like South Dakota has faced this winter and spring, it is critical that milk is picked up from the farm.
"We maintain constant communication with our dairies to ensure milk is picked up in a timely manner," he said.  "The only time we don't pick up milk is when the roads are impassable – when travel becomes a safety issue."
 He also has a milk sampler/grader license that is issued and maintained by the South Dakota Department of Agriculture.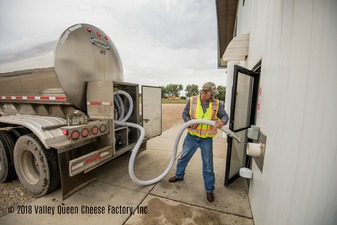 "When I pick up milk, I am responsible for grading the milk to verify acceptability and rejecting all milk of unsatisfactory quality," he said.  "I also use proper measuring techniques to determine the amount of milk picked up, and I am the official collector of samples that are to be used to determine payment and quality of milk." 
He collects small samples of milk at the farm to measure temperature and check for presence of bacteria and antibiotics.  Farmers use medicines like antibiotics when necessary to treat sick cows, but milk from treated cows must be kept out of the milk supply for a specified amount of time. The milk is also sampled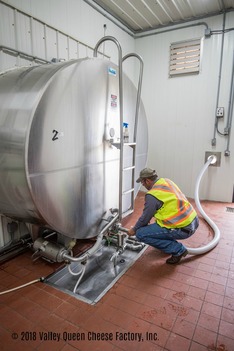 for "components" like protein and butterfat.  These components determine a portion of what dairy farmers are paid for their milk.  
Dave notes that the dairy farmers take a number of steps to ensure the quality and safety of milk, including making sure that animals are healthy and comfortable, and that the barns, parlors and other facilities are clean and well-maintained.  They work hard to provide clean bedding, good air movement and ventilation, water and feed supplies, control flies, and schedule regular check-ups by veterinarians and training for employees. 
The samples that Dave takes at the farm are just the first step.  Valley Queen is regulated by the Food & Drug Administration, the U.S. Department of Agriculture, and the South Dakota Department of Agriculture and there are a number of checks and balances to ensure consumers that dairy products are safe and wholesome to consume.
"When I arrive at Valley Queen, a load sample is pulled and tested for antibiotics.  The milk isn't unloaded until we know that it is negative for antibiotics and safe for human consumption," he said.  The tanker is also checked for smell, acidity and whether water has been added.  The tanker is washed inside and out at the end of each day.  
Valley Queen Cheese was founded in 1929 and celebrating its 90thanniversary in 2019.  The company was founded when cheese makers Alfred Nef and Alfred Gonzenbach were looking for a new home for their small Wisconsin cheese plant.  Alfred Gonzenbach stopped for fuel in Milbank on his way to Montana to look at a plant site, but was approached by local businessmen and decided to stay in South Dakota. 
The company currently processes 4.3 million pounds of milk each day.  The plant is in the midst of a $53 million expansion that will be completed this summer.  Once the expansion is complete, the plant can process about 5.3 million pounds per day, for a total yearly cheese capacity of 200 million pounds per year.
The plant produces American-style cheeses like cheddar, Monterey jack, pepper jack, gouda and Havarti. The cheeses are all shipped in 700-pound boxes to customers who slice, shred and chunk cheese into retail and food service packages.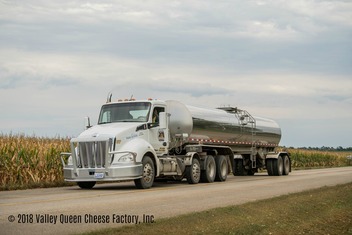 In addition to cheese, Valley Queen produces whey protein concentrate, lactose and anhydrous milkfat. Whey protein concentrate is used primarily in infant formula, sports nutrition and bakery applications. Lactose is used in milk chocolate production and is also exported to New Zealand for use in the standardization of dried milk powders.  Anhydrous milkfat is used in chocolate production, processed cheese and other prepared foods. 
Across the state of South Dakota, the dairy industry is responsible for creating more than 6,200 jobs and generates more than $2.4 billion in economic activity each year — that is about $26,300 in economic activity per cow!  
Want to learn more about dairy farming and see where those delicious dairy products get their start? Click here to check out the list of 2019 open house events and tours.  We hope to see you there!