October Featured Partner – Bruce Vollan, Vollan Oil
Posted: 10/4/2019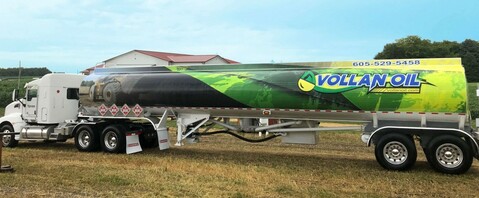 In a typical year, corn and soybean harvest in South Dakota is in full gear throughout the month of October. However, there has been nothing typical about 2019 for many of our state's farmers.  With wet weather that delayed or prevented planting, many crops are well behind schedule and farmers are hoping that Mother Nature cooperates for crops to mature and dry in time to harvest before winter weather sets in.
For both corn and soybeans, there is an ideal moisture level for the harvested grain to ensure that it doesn't spoil or lose quality when it is stored and transported.  In some years, the grain dries naturally in the field and is at about 15 percent moisture when the corn is harvested. In other years, farmers need to harvest when the corn is wetter, so they rely on drying equipment in grain bins to dry the harvested grain to the proper levels. 
In most cases, the drying equipment runs on propane, so good relationships with propane suppliers during busy fall months are important to farmers. 
Bruce Vollan, owner of Vollan Oil in Baltic, South Dakota, delivers a full range of fuel and oil products and has started delivering and selling propane to customers in the past few years. He works closely with farmer customers to make sure their tanks are full and equipment is ready to go when harvest and drying season is underway.
"This year especially, everyone is concerned about harvest timing and quality," he said.  "Our goal is to get propane supplies to farmers quickly when they are ready to run dryers."
He pointed out that maintaining grain quality could be an even bigger challenge this year because of wet areas of fields that will cause variability in moisture levels within the field.  Farmers will be monitoring grain bins closely throughout the harvest season and while it is being stored. 
For farmers and Vollan Oil, safety is a top priority during the busy harvest season.  
"We can't stress safety enough to our employees and everyone we work with," he said.  "This time of year we need to be very cautious and on the look out for potential issues." 
Vollan Oil was started as Midway Station in 1921.  In 1978, Bruce's father began leasing the station and eventually bought the Midway Corner property and Wold Oil Company in 1988.  The business became Vollan Oil Company.
Bruce grew up about 7 miles from the business and attended Garretson schools.  His appreciation for farming and agriculture grew as he worked for several neighbor farms, milking cows, caring for pigs and helping with equipment and field work as needed.
"I enjoyed working with the area farms and became the local 'fill-in' for chores when they needed help," he said.   
He began working at Vollan Oil after school and on weekends when he was 16 and started at the station full-time in 1989.  Bruce, his wife, Pamela, and three children live near Baltic. 
The business has evolved and grown significantly over the past 10 years. 
"It was just my mom, dad and myself with a gas station and a fuel truck, then we started branching out to deliveries and have grown quite a bit," said Bruce. "Adding blender pumps for ethanol use also diversified our products and helped set us apart." 
With 4 transports and 6 tank wagons and 11 employees, Vollan Oil now provides a full range of fuel and oil products, including ethanol and biodiesel options as well as propane, diesel exhaust fluid and heating oil.  They work with a variety of ag and commercial customers across South Dakota and into Minnesota and Iowa. 
"We work with a wide variety of customers and are able to give them multiple product options and stay flexible to meet their needs," said Bruce.
As farmers prepare for another harvest season, so are thousands of partner businesses and service provides across the state.  Like Vollan Oil, they each have an important role in making sure that the harvest is safe and productive for everyone involved.