October Featured Farmer: Ruben Waldner
Posted: 10/5/2023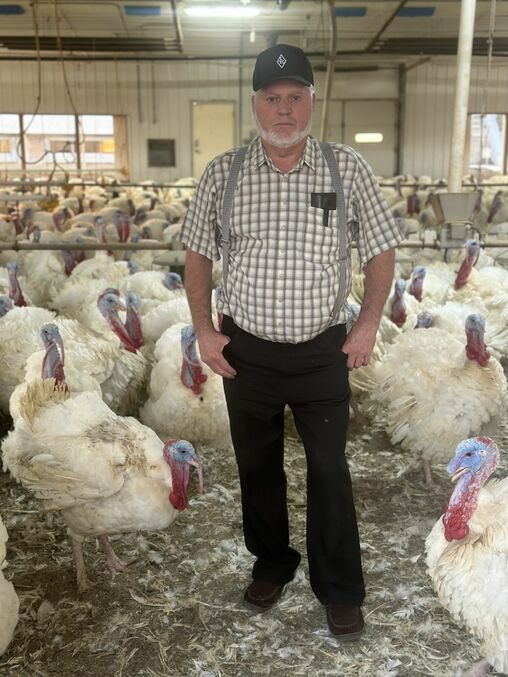 With nearly 40 years of experience raising turkeys in South Dakota, Ruben Waldner has seen a number of changes in how animals are cared for, how they are housed, the technologies that make it possible, and even the birds themselves. 
Waldner is responsible for raising 150,000 turkeys a year on the Riverside Colony, a Hutterite colony located near Huron, South Dakota.  He began raising turkeys in 1986 as the colony transitioned away from dairy farming and was looking for a new enterprise.  Today, the colony raises corn, soybeans, and turkeys and hogs. 
Turkeys arrive at the colony the same day they are hatched and are raised for about 20 weeks.  They are processed at Dakota Provisions in Huron, South Dakota.  The plant is a cooperative owned by 44 turkey growers and processes a variety of turkey products, including deli meats served at well-known chains like Firehouse Subs.
A number of technologies ensure that birds are kept comfortable in barns regardless of South Dakota weather conditions.
"The barns are all controlled by computerized ventilation systems.  As temperatures and wind speeds change, curtains are automatically raised or lowered to keep a consistent temperature and level of ventilation," said Waldner. "When it is extremely hot, a sprinkler system turns on for 10-15 seconds, then off for a minute, with the goal of keeping the birds' heads wet, but their feathers dry." 
He said the combination of misting animals with steady ventilation can have a 10 to 15 degree wind chill effect on the birds, which makes a significant difference in keeping them healthy during hot weather.
Systems to deliver feed and water to the birds are also automatic, with three feed lines running through the barn to provide access to all birds.  Drinking systems have changed to feature smaller nipple systems that birds peck at to get water instead of sharing one larger trough, keeping birds healthier.
Outbreaks of avian influenza, also known as bird flu, have been the most significant challenge to farmers in recent years, prompting a number of additional biosecurity measures to keep birds healthy.  Avian influenza is often carried by wild birds, with migratory season posing the highest risk as geese and ducks migrating through the area increase chances of introducing disease to flocks.
 "We secure the barns to keep wild birds and rodents out and we have several biosecurity practices for people entering the barns and cleaning pens when birds are moved," he said.  People entering the barns put on different coveralls and step into a disinfection bath, then change again before entering another barn.
"The nicer and more comfortable you can keep your barns, the better the birds will treat you by staying healthy and growing like they should," said Waldner. He noted that the genetics of the turkeys they raise has evolved for the birds to be larger at 20 weeks of maturity. 
Waldner said he was chosen to care for turkeys because of his love for animals, which hasn't changed over the years.  He is also excited about the technologies and improvements that have allowed farmers to take better care of their animals and land, and be more productive, including adjusting the number of seeds are planted in an area of the field depending on the type of soil and its productivity.